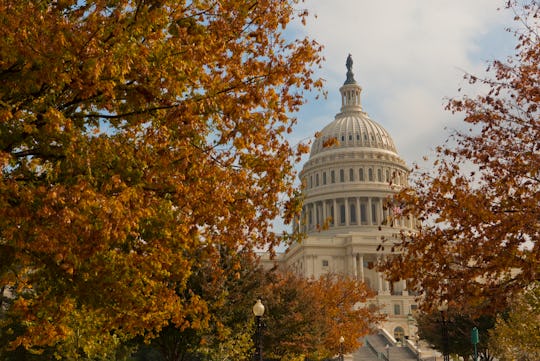 Anthony Quintano/Flickr
What Is Washington, D.C. Doing To Protect Itself Following ISIS' Video Threat?
Following the terrorist attacks in Paris Nov. 13, threat assessment in the United States is particularly critical. Reuters reports that a video released Monday suggests that Washington, D.C. is ISIS' newest target. The video statement appears to be from a representative of ISIS, praising the attacks in Paris while also indicating that more violence is to come in both Europe and the United States. The Department of Homeland Security has yet to comment.
Though the immediacy of the threat is in question, Washington, D.C. is still taking steps to strengthen safety measures. WTOP reports that both the Metro and Amtrak are enhancing surveillance and increasing the number of security personnel on the ground, including "more than 20 police dog teams to conduct sweeps around rail stations." The U.S. Capitol building is also taking significant measures to increase protection, encouraging employees to use tunnels to transit the grounds. Though it's likely that D.C. commuters will notice many of the changes, some may go undetected: KSPR reports that police indicate that "several other countermeasures" will not be easily identifiable.
Tensions were already high in Washington following the attacks in Paris, which killed 130 people. On Sunday, officials evacuated a plane at Reagan National Airport following reports of suspicious passenger activity. The Boston Herald reports that two people were released after questioning; the flight went to Boston after a two-hour delay.
At a press conference in Turkey today, President Obama said that the United States is constantly monitoring threats and sharing any relevant intelligence with other countries. He said that both passenger and luggage screening at airports is improving, and that he and his "national security, intelligence, and military teams" meet frequently to discuss incoming threats. President Obama did acknowledge that identifying actionable intelligence can be difficult:
But typically the way the intelligence works is there will be a threat stream that is from one source, how reliable is that source; perhaps some signal intelligence gets picked up, it's evaluated. Some of it is extraordinarily vague and unspecific, and there's no clear timetable. Some of it may be more specific, and then folks chase down that threat to see what happens.
Though he expressed confidence in the United States' current approach to national security, President Obama recognized the need to continuously refine strategies to protect the U.S.: "My only interest is to end suffering and to keep the American people safe," he said. "And if there's a good idea out there, then we're going to do it."
Image: Anthony Quintano/Flickr