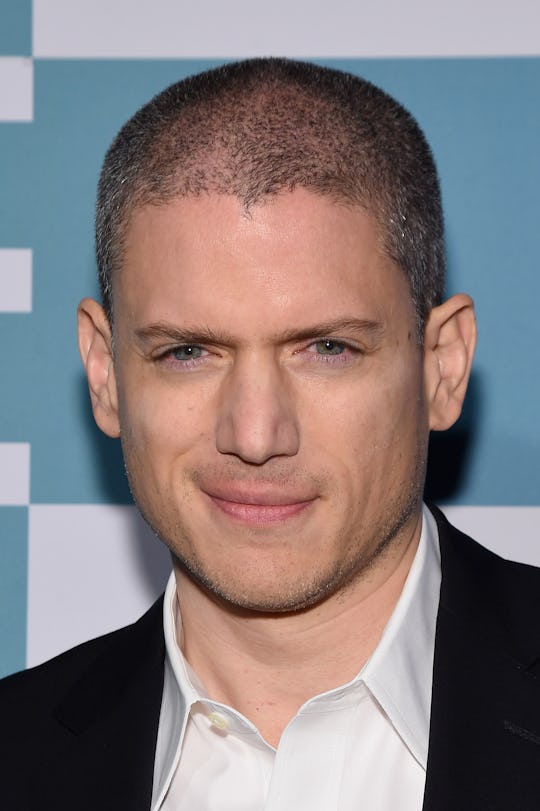 Jamie McCarthy/Getty Images Entertainment/Getty Images
What Is Wentworth Miller Doing Now? The Actor Had A Powerful Response To Body Shaming
Fans of the hit Fox drama Prison Break might remember actor Wentworth Miller best for his role as Michael Scofield, the man who got himself locked up in order to stage an elaborate plan to break his brother out of prison and prove his innocence. The series quickly became one of the network's most popular shows, airing from 2005 and ending in 2009 after four seasons. But those wondering where Wentworth Miller is now won't have to wait much longer for a glimpse of the British-born actor. Miller, along with the rest of the Prison Break cast will be coming back to Fox for a surprise fifth season of the hit drama, according to E! News.
Fox confirmed back in January that the network planned to bring Miller and Prison Break co-star Dominic Purcell back for a revival of the show. Fox executives confirmed to E! that eight or 10 episodes were slated for development in late spring of 2016, with a release planned for the 2016-2017 season.
The news is certainly good for Prison Break fans, but it won't be the first time that Purcell and Miller have teamed up since the show ended. The pair currently star on the CW superhero show Legends of Tomorrow as DC comic heroes Heat Wave (Purcell) and Captain Cold (Miller) in the spinoff of popular shows Arrow and The Flash.
Before Miller first appeared in the role of Captain Cold in CW's The Flash he played one-time roles on television shows including House M.D., Law & Order: Special Victims Unit, and Young Justice, according to IMDb.
The period represented one of semi-retirement, the actor revealed in a powerful essay posted on Facebook earlier this week. Miller said that after Prison Break ended in 2009, he struggled with mental health issues and depression. Miller penned the essay in response to a body-shaming meme shared online by The LAD Bible.
Earlier this week, the UK-based viral news website posted two photos of Miller to its Facebook page: a PR photo highlighting his Prison Break physique and another photo reportedly taken while the actor had taken a hiatus from acting, according to BBC News. According to a screenshot posted by the BBC, the caption of The LAD Bible post read, "When you break out of prison and find out about McDonald's monopoly." And while the outlet apparently deleted the original photos from its Facebook page, the issue quickly picked up steam on Twitter and several users re-posted screenshots of the meme online.
Miller answered the body-shaming post in an essay on his own Facebook account, saying that while the photos represented a particularly dark period in his life, they reminded him of his triumph over his ongoing battle with depression:
Now, when I see that image of me in my red t-shirt, a rare smile on my face, I am reminded of my struggle. My endurance and my perseverance in the face of all kinds of demons. Some within. Some without.
"Long story short, I survived," the 43-year old actor wrote. "So do these pictures. I'm glad."
The LAD Bible later posted an apology to Miller, calling the original post "very wrong" and adding that "mental health is no joke or laughing matter."
Plans for the surprise season of Prison Break are still in development, Fox executives told E!. Season five of the prison drama will apparently pick up several years after the series ended, but before the events in the 2009 straight-to-DVD movie that concluded the narrative. "I wouldn't want to give away too much of what [the show creator] has planned," Fox's Gary Newman told E! In a recent interview. "But he had a very detailed, incredible story for why these characters become relevant again and why to bring them back. It's going to be very exciting."
Fox has yet to announce an exact air date for the revival series, but E! reported that the show is expected to air sometime this fall.