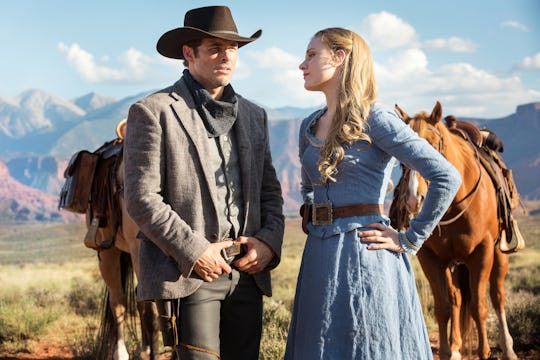 John P. Johnson/HBO
What Is 'Westworld' About? The New HBO Series Is A Sci-Fi Thriller
HBO knows how to create hit TV shows. Even before Game of Thrones hit the scene five years ago, the channel had massive critical and commercial success with shows like Sex and the City, The Sopranos, The Wire, True Blood, and Six Feet Under. Arguably, HBO was at its peak back then, during the late '90s/early aughts. Recently, Thrones has been the channel's main awards get, breaking all kinds of records. Despite no new HBO show coming remotely near Thrones' success, the uber-hyped Westworld just might be gearing up to be their next big hit. But what is Westworld about?
The show is a reimagining of the 1973 sci-fi Western thriller of the same name, written and directed by Jurassic Park scribe Michael Crichton. The movie was about an Old West-style amusement park filled with lifelike robots. Guests can pay handsomely to do what they will with the robots, and the movie's chief plot revolves around a tourist who fights his way out when the lifelike robots go haywire and on a killing spree.
Given that the show, which has been being developed for ages, has been shrouded in a ton of mystery – complete with super vague but intriguing promotional images and trailers –we don't know to what extent the series will follow the book.
The majority of early reviews of the show suggest that the show takes the basic premise of the movie and goes in for a deep dive, building up the unique world of the story and focusing in on the main characters (including the robots called "hosts," the park's array of dastardly and semi-innocent guests, and the creators of the park) as a character study. As opposed to the film, it seems that (based on the trailers which focus on Rachel Wood's character Dolores, a "host") the show will take a more nuanced view than treating the rogue, increasingly self-aware robots as simple villains.
The new series, which is being billed as a science fiction thriller, has come to fruition upon a fraught road, after many years of development setbacks. The J.J. Abrams-produced pilot was initially ordered by HBO back in August 2013. An assortment of high profile actors like Anthony Hopkins, Evan Rachel Wood, and James Marsden became attached to star early on in 2014. Over a year later, in November 2014, Westworld got a full series order from the premium cable channel, initially announcing that the show would premiere sometime in 2015. The show's first teasers dropped in August 2015, bumping the premiere date back to 2016.
Westworld will premiere this Sunday, Oct. 2 in the coveted 9 p.m. ET time slot on HBO.