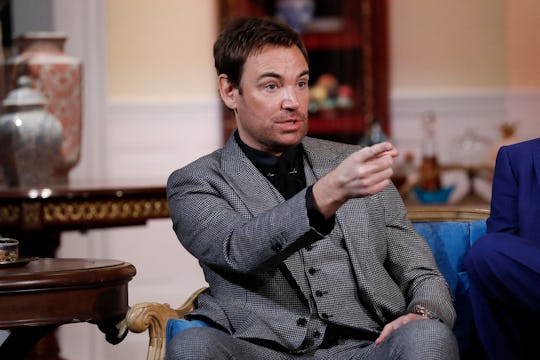 Heidi Gutman/Bravo
Whitney From 'Southern Charm' Is A Lot Busier Than You Might Think
Aside from his mother Patricia, Whitney might be the only grown up in the Southern Charm squad. He lists "bon vivant" as one of his occupations in his Bravo biography but that can't be all he does, right? So what is Whitney's job on Southern Charm, since all he seems to do is counsel Shep on love and dote over Cameran.
Despite his seemingly laid back, Charleston lifestyle, Whitney actually keeps pretty busy. When not filming for the show, he lives in Los Angeles, coming up with ideas for shows and writing them. In fact, Southern Charm was all his idea in the first place, and he has a producer's credit for it. So, he's not just tossing back mint juleps all day by the water (though he definitely does do a lot of that).
He told Urban Daddy that it all started with Thomas. "Initially, I come from more of a film background, and it started out as a documentary," he explained. "I'd become friends with Thomas Ravenel, who lived in Charleston, I think he'd just gotten out of prison." (Remember, Thomas spent some time locked up for a federal drug charge.)
Whitney added:
I felt he'd be this really compelling character. And I figured he'd make interesting subject matter for a documentary and/or TV show. I did this pilot thinking it was going to be a documentary kind of exploring the myth of the Old South and reconstruction and all this bullshit. And my agent said at the time, 'No, no, no, this should be a TV show, these characters are all compelling,' and we just kind of built it out from there.
Recruiting his mother was actually the hardest part, he added in the same interview, stating:
She had no idea what she was getting herself into, nor did I for that matter. She's so funny and she doesn't take herself seriously. And I said to her, 'Look, it would help show who I am and what's going on in my life, so would you just come on...'
But she was a natural, as all of us fans know now. "The first couple scenes were pretty innocuous, but then she obviously comported herself," Whitney stated. "The fact that she was so funny on camera... her role just got bigger as the seasons went on. And, for me, I love having Mom on camera —imaging having your mom on TV talking about your love life. It's kind of a nightmare, but funny nonetheless."
Southern Charm is really the biggest project he's worked on. In his Bravo bio, Whitney says that he directs films that "few will see," in his typical self-deprecatory way. He directed, Going for Baroque and Afternoon Delight, as well as a "redneck buddy comedy" called Bubba and Ike that was screened at the Austin Film Festival. He also directed the TV pilot, Torture TV, which starred Danny Huston. So, he was right about not many people seeing his work.
Aside from a producer and a director of small films, Whitney might have a new job this summer: Babysitter. Cameran had her baby two months ago, and Uncle Whitney was one of the first of the group to meet her daughter Palmer. Cam told The Daily Dish, that he's the only one she'd trust to watch her.
Whitney has a great heart and I can see him taking excellent care of her. Although I guarantee you he wouldn't change a poop diaper. He's a bit of a germaphobe. Michael could have diaper duty.
So if reality TV and all of his film work doesn't pan out, he'll always have a spot in the nursery.
Check out Romper's new video series, Romper's Doula Diaries:
Watch full episodes of Romper's Doula Diaries on Facebook Watch.