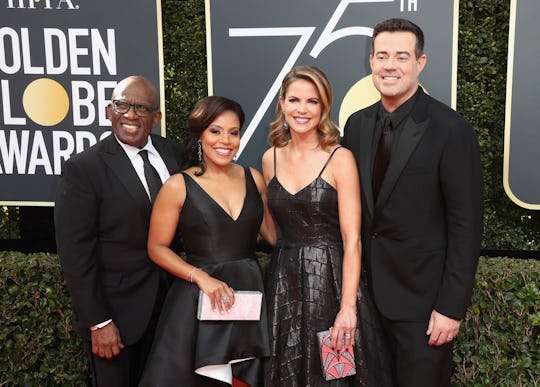 Frederick M. Brown/Getty Images Entertainment/Getty Images
What Is #WhyWeWearBlack? The Golden Globes Hashtag Calls Out Workplace Sexism
Fans tuning in to the 75th annual Golden Globe Awards might have noticed the red carpet scene was a bit more monochromatic than usual. If you paired the coverage with Twitter for a full two-screen experience, you were likely to spot an accompanying trend. So what is #WhyWeWearBlack, the Golden Globes hashtag, all about? On Sunday night, the stars used their fame to call attention to an important issue: the culture of workplace misogyny, sexual harassment, and sexual assault that's prevalent not just in the entertainment industry, but virtually every industry.
On Sunday night, E! red carpet host Giuliana Rancic stopped Debra Messing to ask her why she was wearing black. Her response:
I am wearing black to thank and honor all the brave whistleblowers who came forward and shared their stories of harassment and assault and discrimination. I'm wearing black to stand in solidarity with my sisters all over the globe, and I'm here to celebrate the roll out of this incredible initiative, Times Up. You know, time is up. And we want diversity, we want intersectional gender parity, we want equal pay. I was so shocked to hear that E! doesn't believe in paying their female co-hosts the same as their male co-hosts.
Way to burn them on their own network!
The call to wear black came from the group Time's Up, an initiative founded by about 300 prominent female actors, directors, producers, and other entertainment industry professionals aimed at combating workplace discrimination, sexual harassment, and assault. The women of Time's Up utilized their platforms to call for fair workplace practices and legislation, as well as to create a legal defense fund for those who have experienced sexual harassment or retaliation for reporting discrimination or misconduct.
Men and women wore black on the red carpet to show solidarity with those who have suffered from workplace gender inequality, as well as to call attention to the movement. Red carpet interviews give stars a unique opportunity to speak their minds, even if they don't end up making a speech later that night, but for women, those interviews tend to be frustratingly focused solely on their outfits. Anticipating the traditional questions about their gowns, the women of Time's Up parlayed that into a talking point about their movement.
For those Golden Globes fans who didn't tune in for the red carpet arrivals, the stars spread the word on Twitter, using the #WhyWeWearBlack hashtag. Vera Farmiga tweeted that she wore black "So we can rejoice and behold a rainbow tomorrow," inviting fans to donate to the Time's Up legal fund. Alyssa Milano, who helped bring activist Tarana Burke's Me Too movement into the mainstream, tweeted some sobering facts: "1 in 3 women have been sexually harassed in the workplace. And only 29% report it. 65% of women have experienced street harassment with 23% being sexually touched, 20% followed, and 9% forced to do something sexual."
Even stars who weren't in attendance at the Globes got in on the hashtag. "Tonight I am wearing black... for every woman or man who has dealt with or is dealing with harassment of any kind!" Hilary Duff captioned a photo of herself in a black hoodie.
Felicity Huffman tweeted a pair of images of her husband, William H. Macy, in a black-on-black tuxedo with the caption, "Because #TIMESUP on silence. Because #TIMESUP on waiting. Because #TIMESUP on discrimination. Because #TIMESUP on harassment. Because #TIMESUP on abuse. Proud to stand w/ all those supporting #TIMESUP today - w/ Bill on the carpet & me from the couch!#whywewearblack #goldenglobes"
Black is traditionally thought of as a color of mourning, but at Sunday's Golden Globes, it became the color of hope.
Check out Romper's new video series, Romper's Doula Diaries:
Watch full episodes of Romper's Doula Diaries on Facebook Watch.