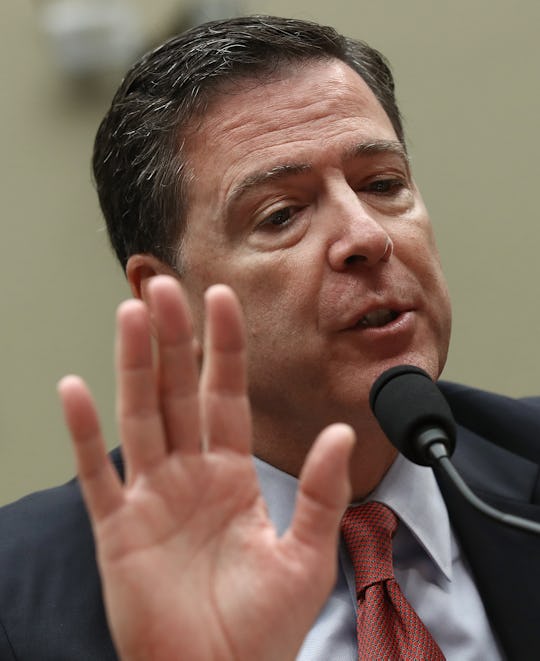 Win McNamee/Getty Images News/Getty Images
What James Comey's FBI Letter Actually Says, Because It's Not What It Seems
On Friday, the case of The Email Scandal That Would Not Die got another twist, with FBI Director James Comey announcing that his agency was looking into new evidence about Hillary Clinton's emails. But everyone shouting "Lock her up!" might want to hold on for a moment, because closer examination shows that James Comey's new FBI letter about Clinton is not as damning as it might initially seem.
Earlier this year, Comey recommended that the Justice Department not press charges against Clinton for her use of a private email server, although he did call her actions "extremely careless." Then, on Friday, Comey sent a letter to eight congressional committee chairmen saying that the FBI had "learned of the existence of emails that appear to be pertinent to the investigation," and that it would be reviewing them to see if they were relevant and/or contained classified information. He added that it was currently unclear whether the emails were significant, and that he did not know how quickly the FBI would be able to complete its investigation.
The news was immediately seized upon by Republicans ready to proclaim Clinton's guilt. Why else would Comey be "reopening" the case a mere 11 days before the election?
But the case is not being formally reopened. As CNN's Chief National Security Correspondent Jim Scuitto points out, it's "more accurate to say [the FBI] is reviewing new emails related to the probe," and the FBI letter does not say anything about the information's actual credibility.
Moreover, multiple outlets are now reporting that the new emails didn't actually come from Clinton's server. Instead, they were apparently found on devices seized from Anthony Weiner and Huma Abedin in an investigation of Weiner's sexting. (Of course Anthony Weiner found his way into this.) So it seems that Clinton didn't actually withhold these emails.
In an email statement, Clinton campaign chair John Podesta said,
Upon completing this investigation more than three months ago, FBI Director Comey declared no reasonable prosecutor would move forward with a case like this and added that it was not even a close call. In the months since, Donald Trump and his Republican allies have been baselessly second-guessing the FBI and, in both public and private, browbeating the career officials there to revisit their conclusion in a desperate attempt to harm Hillary Clinton's presidential campaign. FBI Director Comey should immediately provide the American public more information than is contained in the letter he sent to eight Republican committee chairmen. Already, we have seen characterizations that the FBI is 'reopening' an investigation but Comey's words do not match that characterization. Director Comey's letter refers to emails that have come to light in an unrelated case, but we have no idea what those emails are and the Director himself notes they may not even be significant. It is extraordinary that we would see something like this just 11 days out from a presidential election. The Director owes it to the American people to immediately provide the full details of what he is now examining. We are confident this will not produce any conclusions different from the one the FBI reached in July.
Newsweek pointed out that Comey was legally required to notify Congress of any new evidence, regardless of its validity or significance. And if he had withheld it until after the election, and people found out, he and the FBI could have lost all credibility.
Unfortunately, the initial headlines may have done damage to the Clinton campaign despite lack of evidence of any wrongdoing. But moving forward, the key thing to know is that the whole situation is confusing and vague, and nobody should jump to conclusions just yet.