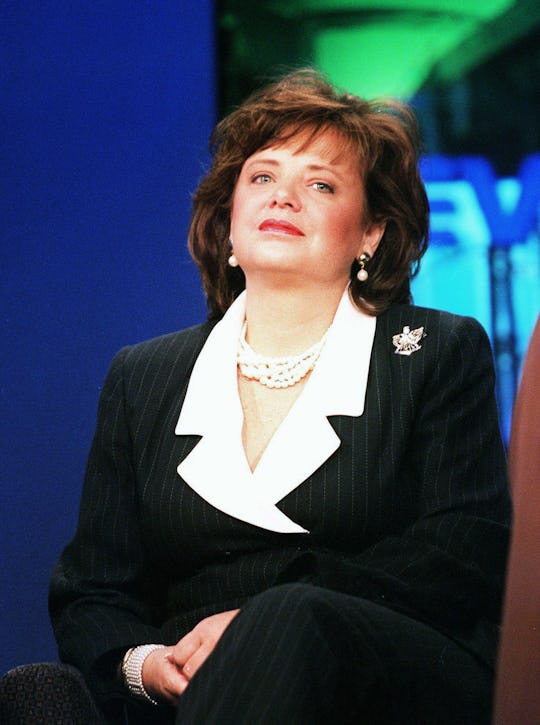 MARIO TAMA/AFP/Getty Images
What Kind Of Cancer Did Patsy Ramsey Die Of? JonBenet's Mother Had A Rare Type
The mother of slain 6-year-old beauty queen JonBenét Ramsey passed away in 2006, 10 years after her daughter's murder. At 49 years old, Patsy Ramsey died of the cancer that she had been diagnosed with three years prior to the year in which JonBenét's lifeless body was found in the basement of the family's home. But what kind of cancer did Patsy Ramsey die of? It was a rare type, albeit one that affects tens of thousands of Americans every year, and tragic all the same.
On June 24, 2006, Patsy Ramsey died of ovarian cancer. Ramsey passed away in Roswell, Georgia, a suburb of Atlanta, in her father's home. She was later buried in Marietta, Georgia next to her daughter. Both Ramsey and her husband John had lived in Michigan, but moved to Georgia a couple of months prior upon Ramsey's condition worsening. According to her obituary, Ramsey "took an aggressive form of treatment that removed the cancer" in 1993, but this same cancer later returned in January of 2002.
In the book The Death of Innocence: The Untold Story of JonBenét's Murder and How Its Exploitation Compromised the Pursuit of Truth, Ramsey wrote of her frustrations with the illness, saying "I wanted to be mad at someone for doing this to me." Ultimately, her Christian faith informed the rest of her life. "We're going to beat this together," she wrote, "God and me and the chemo[therapy]."
According to the Mayo Clinic, ovarian cancer is treated with surgery and chemotherapy. Unfortunately, though, it often goes undetected until it has "spread within the pelvis and abdomen." Once the cancer has reached this stage, it is "more difficult to treat and is frequently fatal." In its early stages, ovarian cancer seldom shows symptoms. In later stages, ovarian cancer symptoms mirror the symptoms of bowel-related illnesses, often causing them to be overlooked.
The family's longtime attorney, L. Lin Wood said that Ramsey was able to fight her illness for 13 years because she had strong hopes that her child's killer would be found. "Hopefully," Wood stated shortly after Ramsey's death, "her legacy will not be tied to the false accusation related to the brutal murder of her daughter."
Certainly, though, the American public remains transfixed by the murder of JonBenét, the case's inability to be solved, and the remaining living immediate family—JonBenét's father, John, and brother, Burke. CBS will premiere its three-show special The Case of: JonBenét Ramsey on Sept. 18 at 8:30 ET/8 PT, with the intentions of reviewing the case—and its suspects—more closely.