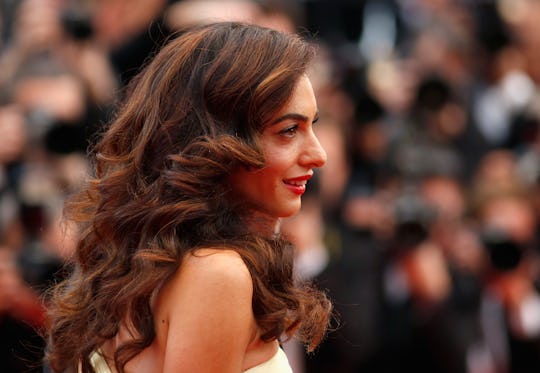 Tristan Fewings/Getty Images Entertainment/Getty Images
Renowned Badass Amal Clooney's Many Court Cases
There's an old saying in Hollywood that Ginger Rogers had to do everything Fred Astaire did but "backwards and in high heels," implying that a woman always had to work harder than her male partner to achieve the same level of fame or success. Given the coverage of Amal Clooney's pregnancy, one might think that she's just George Clooney's wife and looks great on a red carpet, advocating for his causes along with him, but in high heels. Some of those things are true: she is George Clooney's wife and never disappoints when it comes to rocking a wide-leg pantsuit and heels. But Amal Clooney's cases and career are much more interesting than any fashion statement she might make on any red carpet.
To put it simply, Amal Clooney is hardcore. ICYMI: She's married to George Clooney, who is synonymous with Hollywood, for sure, and she is pregnant. Yes, the world will be blessed with Clooney and Beyoncé babies right about the same time. But can we all take a minute to remember that Amal Clooney is an international human rights lawyer, and lives her career, day by day? Even as we adore her "maternity looks?"
Yes, we can.
Amal came up as an attorney in New York City and worked first at a renowned firm, Sullivan and Cromwell, before seriously launching her legal career.
Since her early days in New York, she worked her butt off to become a well-known international human rights lawyer. In just the past few years, she's notably represented former Ukrainian Prime Minister Yulia Tymoshenko, argued for Elgin Marbles to be returned to Greece, and also hustled to liberate three Al-Jazeera journalists imprisoned in Egypt. Moving from New York City to the Hague, she's defended and is still defending world leaders and people who are being silenced by totalitarian governments. She also advises and speaks to the United Nations on a regular basis.
Repeat: Amal Clooney is a force to be reckoned with on so many levels.
For instance, she's also ready to take on ISIS, legally. That's not a strategy one often thinks about when it comes to taking on terrorists, but Clooney is ready.
She spoke on behalf of Nadia Murad, a woman who was enslaved by the terrorist group, in front of the United Nations. As a representative of Murad, Clooney said, "We know that there's a military campaign going on where ISIS is being taken on on the battlefield. What we want is to see ISIS members also in a courtroom." There are no drones or military action in her goals: she wants to catch terrorists and try them in an international courtroom. Clooney makes it sound possible.
World leaders are often people's first go-to choices when it comes to enacting change. But change is can be enacted through the work of human rights lawyers like Amal Clooney. And she's been doing it for years, in high heels, and just so happens to be married to George Clooney. And don't you forget it.