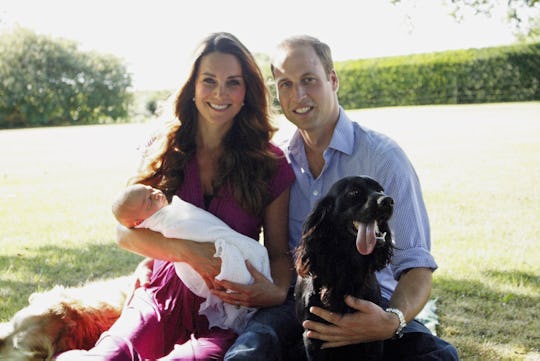 Handout/Getty Images Entertainment/Getty Images
What You Need To Know About Kate Middleton & Prince William's Royal Pup, Lupo
There's a lot we know about the royal family. Like, a lot. Everything from their prepared meals to the designer of every jacket they sport is highly speculated in the public eye, so it makes sense that some people would wonder about perhaps the most important member of the family: their dog. So, what kind of dog is Lupo? As you'd imagine, Kate Middleton and Prince William's pup is a huge part of their lives.
Prince William and Middleton's cocker spaniel is their "eldest child," as the couple was first spotted with him in 2012, according to Closer Weekly. The first time the couple was seen with the pooch, Lupo was about 3 years old, the publication reported. Though it's unclear when exactly the couple got her, according to Hello! Magazine, he was reportedly bred from Middleton's parent's dog, Ella, and was reportedly named after the Duchess of Cambridge's paternal great-grandmother, Olive Christiana Lupton.
Though Lupo is often seen pictured with the royal kids (there's one particularly sweet shot Kensington Palace posted after Prince George's third birthday, in which he plays with his pup in his backyard). Kate is reportedly a huge fan of dogs. In fact, ELLE reported that she often stops to pet them when she sees them at appearances.
Of course, many of the royals are well known for their love of dogs. Namely? The family's matriarch, Queen Elizabeth.
"Dogs have played an important role in role in the public and private lives in The Royal Family. This is reflected in a large amount of items in the Royal Collection that feature dogs," according to the royal family's website. "From Van Dyck's portraits of Charles I with King Charles Cavalier Spaniels to Edwin Landseer's paintings of Queen Victoria's beloved dog Dash, The Royal Family's love of dogs has long been evident."
Sadly, earlier last this year, the Queen's last living Corgi, Willow, passed away, marking the first time since World War II the monarch has not had a corgi by her side, The Guardian reported. However, she still has Vulcan and Candy, two dogs of mixed breeds.
It seems that the newest royal, Meghan Markle, is a dog lover as well (it looks like she'll fit right in) and there was even a super cute moment for her own pup at her wedding, as Harper's Bazaar reported. Duchess Meghan's beagle was transported to the wedding by a private driver. (Yes, very cute, and probably royal approved.) What's more, Lupo also got the royal treatment at Markle and Prince Harry's wedding as royal reporter Omid Scobie tweeted that he was at Windsor Castle with the royal kids.
Despite the sweet moment, Vanity Fair reported that, upon accepting Prince Harry's proposal, Markle had to leave one of her rescue dogs with a friend back in the United States. However, the magazine also reported that the couple got a new dog together shortly after moving in together, and that the new dog, a lab, will be joining the Sussexes as well as Markle's beagle in their new home.
It's clear that a fondness for dogs runs in royal blood, and whether that's in the form of the Queen's famous corgis, or Will and Kate's sweet pup, it's just one more thing to make us love them even more.
This first-time mom wants to have a home birth, but is she ready? Watch how a doula supports a military mom who's determined to have a home birth in Episode One of Romper's Doula Diaries, Season Two, below. Visit Bustle Digital Group's YouTube page for the next three episodes, launching every Monday starting November 26.