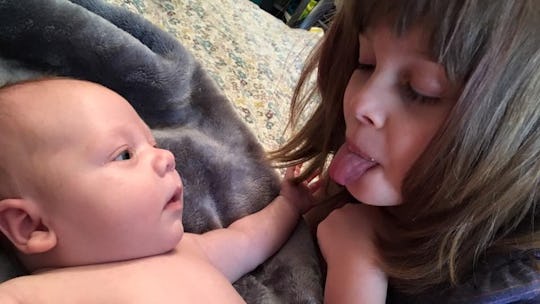 Courtesy of Steph Montgomery
What Kind Of Older Sibling Your Kid Will Be, Based On Their Zodiac
While adding another baby to the family is always exciting, it's not always easy. Not only will your older kids feel mixed emotions about their younger sibling, but they may regress and act out as they navigate this intense time of change. In my experience, it's impossible to know what kind of sibling your kid will be until their new brother or sister arrives, and often figuring out how they'll adjust is half the fun.
But that doesn't mean you can't try.
When I looked up my kids' Zodiac signs on popular astrology sites Astrology Zodiac Signs and Astrology.com, I was shocked to realize how accurate their descriptions of my children are. My oldest daughter is a Gemini, for example, so she's playful, full of energy, and curious. It's no wonder that she was disappointed when her baby brother didn't do anything for the first few months — she wanted to play, the baby couldn't. My oldest son, in contrast, is an emotional Scorpio. Not only does this make him passionate and a loyal friend, but he's prone to jealousy. I guess I shouldn't have been surprised that his baby brother definitely brought out his green-eyed monster.
Again, it's impossible to now how your child will react to the introduction of a younger sibling, and astrology isn't what one should consider to be an exact science. But it's fun to guess how our children will handle being an older sibling, so why not explore what their Zodiac sign has to say on the issue: