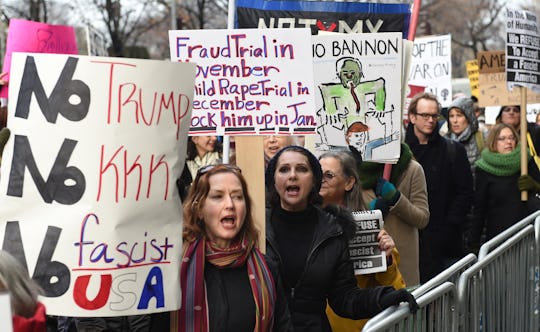 TIMOTHY A. CLARY/AFP/Getty Images
Signs You Can & Can't Bring To The Women's March
Hype for the Women's March on Washington is mounting. On Saturday, Jan. 21, protesters will come together in efforts to protect women's health, rights, and safety. If you're heading to D.C. for the big event, you'll want to know what kind of sign you can bring to the Women's March, as there are a few restrictions as far as materials go. But you're definitely free to choose whatever words and slogans you feel best represent your personal mission.
As for the components of the signs, the official Women's March FAQ prohibits signs made with wooden handles, saying instead that "we encourage people to use cardboard sign posts." Additionally, flags are permitted at the event, "but they can't be on any sort of flag pole." These rules are meant to minimize the presence of "anything that can be construed as a weapon."
Margaret Huang, the executive director of Amnesty International USA, offered a key piece of Women's March sign advice to The Cut, sharing:
Your best option is to bring signs where you can convey your messages on both front and back of the sign, so that no matter where somebody is standing, they can see your message.
Other, general Women's March advice includes guidance on what you can and can't bring. Backpacks, for example, are not permitted unless they are transparent, uncolored, and aren't any larger than 17"x12"x6." If you're looking for advice as to what to wear to the Women's March, many advocate for comfortable shoes while recommending that protesters dress for the weather. As of the time of this article, D.C. only shows a 10 percent chance of rain on the day of the Women's March; Here's hoping those predictions hold steadfast.
Protesters (and their signs) will be in good company on Saturday. The list of celebrities attending the Women's March is star-studded; Janelle Monae, Questlove, and Grimes are all slated to perform, and Chelsea Handler, Katy Perry, Cher, America Ferrera, and Uzo Aduba will all reportedly make appearances. The list of Women's March speakers is incredibly impressive as well. Though Beyoncé hasn't confirmed that she'll be at the march, she did write a Facebook post supporting its efforts, insisting: "As #GlobalCitizens, we can make our voices heard and turn awareness into meaningful action and positive change. #WomensMarch."
With an estimated 215,000 attendees on Facebook, the Women's March on Washington will surely aim to represent women's rights in full force. With sister marches in 600 other cities, the various movements will send a strong statement for women "stand[ing] together in solidarity with our partners and children for the protection of our rights, our safety, our health, and our families - recognizing that our vibrant and diverse communities are the strength of our country."