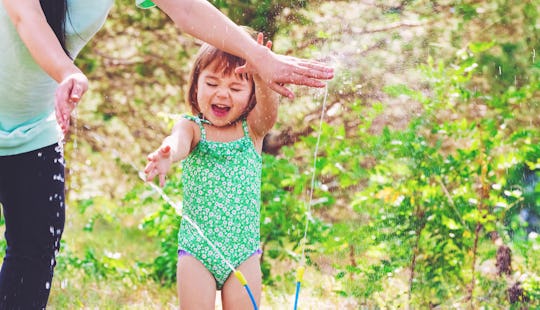 Melpomene/Fotolia
This Is The Kind Of Swimsuit Your Toddler Should Wear, According To An Expert
My family loves the beach. We go as often as we can in the summer, and we know all the ins and outs of balancing comfort and convenience when it comes to swimwear. It wasn't long ago, however, when I was wondering, "what kind of swimsuit should my toddler wear? And let me tell you, there's a learning curve.
I have a son who is 3 years older than my daughter, and swimsuits for him were easy. I just made sure that he had a swim diaper, a pair of cute board shorts, and we were ready to go. Alas, that was nine years ago, and things have evolved a bit as they are wont to do. When I had my daughter, I bought the cutest, frilliest, cross-strap one-piece you've ever seen. I remember it vividly. It was covered in a Japanese cherry blossom print and came with a UV coverup that snapped onto the little suit. It couldn't have been cuter.
Or a bigger pain in the butt. Do you know what's impossible to do with a potty training toddler? Get them out of a one-piece with cross straps in time for them to actually use the potty. I don't know why I thought I could, seeing as how I can't get myself out of cross straps. I guess I was relying on hopes of divine intervention or something, because I cheerfully bought it and strapped her in.
I learned quickly that a bathing suit on a potty-training toddler needs to be easily removable, at least from the waist down. Do you know how many times my cute little girl wore her fancy, expensive swimsuit? Once. She wore it once before I went to Target and bought three two-piece suits for less than the price of the ruffled suit of doom.
Figuring out exactly what kind of swimsuit my toddler should wear was a question I should've considered first. Luckily, there are experts in this arena.
I asked dad, pediatric nurse, and former Navy diver, Chris Colucci of Brooklyn, New York which suits are best for the little ones on the beach or at the pool. He tells Romper in a phone call that "swimsuits for little kids have come a long way. When my daughter was born eight years ago, there just wasn't as much available. Now, there's tons of new options. As for what suit is the best for toddlers, it really depends where you are swimming," adding that not all suits are appropriate for all places.
"If you're going to an indoor pool, you won't need the sun protection or rash guards like you would elsewhere, especially if it's for a lesson. For lessons, you want your child in a form-fitting suit that doesn't impair their mobility. If your son is in especially baggy shorts, or a loose UV suit, it's going to drag in the water, and you don't want that. You can put your kids in a bikini if you want, as I can tell you, that makes bathroom time so much simpler. Just avoid anything that ties or has too many ruffles. Those aren't safe in pools — indoor or outdoor."
Colucci says that as far as hanging out at a water park, if it's indoor or outdoor, a rash-guard swimsuit is your best bet. Little arms and bellies get irritated easily, and spending a lot of time in wave pools or on lazy rivers is surprisingly hard on toddler skin. It has the added benefit of UV protection if you buy the right one, and they are two pieces, making bathroom time a cinch.
He tells Romper that if you're spending time outside at a beach or pool, you want to make sure that your toddler is covered from the sun. While the American Academy of Pediatrics (AAP) has no official stance on UV swimsuits, Colucci says they're a good idea if you're going to be in the hot sun without a lot of shade, noting that kids aren't great at staying under the umbrella. Look for long sleeves, and make sure the weave of the fabric is tight, but breathable.
However, he says there is one thing you absolutely shouldn't use, and that's inflatable floaties over a swimsuit. Colucci agrees with the AAP that they're no substitute for a life jacket, and often not well constructed. While they don't need the jacket if they're just hanging out on the beach, if they're getting in and out of a pool, or if they're on a boat, they need one. Colucci stresses that swimsuits with floatation devices sewn into them are not a substitute for a good life jacket, and they're also prone to growing mold, and difficult to get off, so they're best avoided.
While the ruffled swim dresses and string bikinis are adorable, they're not the best choice when considering safety and sun protection. Thankfully, even Target sells some really cute and affordable UV and sport swim suits that hit all the bases, and I know you really need another reason to hit up Target.