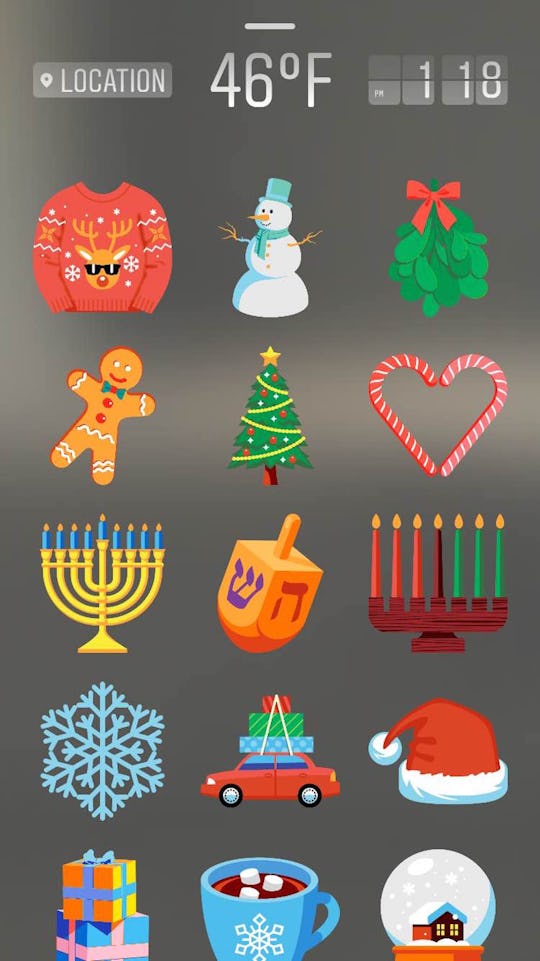 Screenshot courtesy of Kimberley Richards
Instagram Stickers Run From Festive To Hilarious
Instagram has released a number of updates lately, and it has showed no signs of slowing down. Between the company's new live video feature, and its new feature that allows users to bookmark posts to view later, Instagram users sure have had a lot of new updates to explore recently. And earlier this week the company introduced new features that will likely get a lot of play. Instagram introduced stickers, and if you're already a photo-and-video-sharing-kind-of-person, then you may be interested in how to add more features to your posts. So, what kind of Instagram stickers are there? There's no need to fret, you certainly have a lot of options.
As explained in the company's blog in a post published on Tuesday, Instagram users can add a variety of stickers to a photo or video that they've taken. Whoever said adults had to stop using stickers anyway?
...It's easy to make stickers your own: move them around, make them bigger or smaller and choose from different styles to match your mood. Subtle stickers let your photo or video shine, whereas vibrant stickers bring an extra pop of color to your story. And you can add as many stickers as you want to any part of your story...
From the looks of it, the stickers range from sharing the current time, temperature, or your location (perhaps similar to Snapchat's geofilter feature), to holiday sweaters, gingerbread man cookies, and candy canes. But there are also stickers that resemble the emojis that many Instagram users like myself have become all too familiar with. You know, the smiley faces (side-eye face is my personal favorite), the various fruit and other food emojis, and a selection of flags from around the world.
And the best part? Accessing these features are pretty straightforward. As explained in the company's help center, once you take a photo or video on Instagram, tap the smiley face feature towards the tap right to access the variety of stickers there for your choosing.
If you're feeling festive for the holidays, there are certainly a number of holiday-related stickers to add to your photos or videos, to help spread the holiday joy to your followers. But if you're feeling like you want something new (and by something I mean Instagram stickers of course) for the new year, Instagram is apparently releasing more stickers in 2017. "A special candy cane brush brings a sweet addition to your drawing tools, and keep an eye out for another set of stickers to ring in the new year!" the company wrote in its blog.
Your photos and videos may have just gotten a bit more interesting.