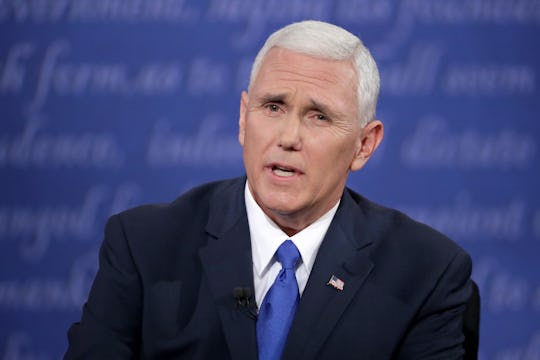 Chip Somodevilla/Getty Images News/Getty Images
What Mike Pence's Response To An 11-Year-Old Says About How He & Trump Would Address Women
Polls have shown that if only women could vote in this presidential election, Democratic nominee Hillary Clinton would win in a landslide. That's no surprise to her rival party, who, after the 2012 election, laid out an extensive plan to reach more women voters. Donald Trump has struggled with women amidst leaked recordings of demeaning comments about women and accusations of sexual assault. Trump's running mate and Indiana Gov. Mike Pence has fared better, but he still isn't using all of the available opportunities to make it known that his and Trump's candidacy adequately addresses women's issues. In an interview with 10TV, Pence was asked to respond to an 11-year-old girl's comments about body image, and Pence's response didn't address her comment at all, signaling to all women how he and Trump might approach women's issues if elected.
Trump's campaign has not responded to Romper's request for comment.
The Ohio 10TV reporter asked Pence what he would say to a Girl Scout who had expressed concerns about how Trump's campaign was affecting her self-esteem:
She said this: 'When I hear those words and look in the mirror, they make me feel bad about myself.' And again, she said that totally unsolicited. What would you say to that little girl?
This was Pence's full response to the reporter's question, according to 10TV:
Well, I would say to any one of my kids and any children in this country that Donald Trump and I are committed to a safer and more prosperous future for their family. The weak and reckless foreign policy that Hillary Clinton promises to continue has literally caused wider areas of the world to spin apart. The rise of terrorist threats that have inspired violence here at home, and we've seen an erosion of law and order in our streets. And we've seen opportunities and jobs evaporate and even leave Ohio and leave this country. I would say to any of our kids that if Donald Trump and I have the chance to serve in the White House that we're going to work every day for a stronger, safer, and more prosperous America.
Hold up. What do terrorism and jobs leaving the country have to do with a young girl's concerns about body image?
The young girl was clearly responding to Trump's many comments on women's bodies and appearance. After all, Trump has publicly rated individual body parts on a woman and shamed women for their weight and the size of their breasts. It would make sense that a young girl who heard these comments would be affected by them.
But Pence didn't address the girl's concerns at all. Yes, politicians are highly skilled in the art of evasive responses — but this surpasses simple evasion. It is ignorance. His response, which manages to touch on foreign policy, domestic crime, and the economy — but not women, which was the topic of the question — reveals an important lack of understanding of women's concerns.
Body image and self-esteem are intricately intertwined for many women, and they have real effects on our lives. A negative body image can manifest itself in mental health issues like depression, anxiety, and tendency to self-harm, according to Science Daily. It can also lead to eating disorders and lower self-esteem, which can affect responses to sexual violence. These, and many other consequences of undermining the value of American women and girls, are all very real issues Pence could have touched on in his response. But he didn't.
Does this mean Trump and Pence would similarly ignore women's issues if elected? A quick look at their histories and proposed policies will tell us as much, or worse.
As Trump is not a politician, he has less of an official "record" on women than his running mate. His campaign has repeatedly pointed to Trump's hiring of women in the upper ranks of his business and campaign as evidence that he respects and elevates women. He's also proposed a plan that would guarantee six weeks of paid maternity leave for American women. But his words on women have rightfully been subject to a lot of criticism throughout his campaign. They show a very serious lack of respect for women beyond their physical appearance. Without a prior political record, it's unclear how his hiring of female executives and lack of respect for women would come together in policies regarding women. But based on his own comments, recent allegations, and his campaign's silence on violence against women, we can expect sexual assault will not be addressed by a President Trump.
Pence, however, does have a record. The Indiana governor defunded Planned Parenthood in his state and drastically reduced access to abortions, according to CNN. He also signed a law that held doctors legally liable for wrongful death if they performed an abortion for certain reasons. Polls in his home state showed that women didn't favor him all that much. So in office, we could expect more abridgment of women's reproductive rights. And, based on Pence's response to the Ohio Girl Scout, we can also probably expect a lack of policies designed to address women's concerns about their well-being or enhance the lives of our girls.