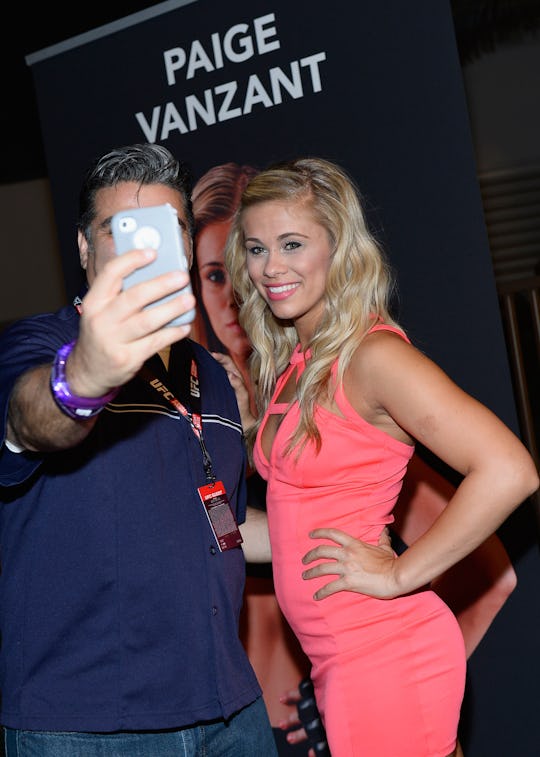 Bryan Steffy/Getty Images Entertainment/Getty Images
What Movie Is Paige VanZant Going To Be In? The 'DWTS' Contestant Is Making It Big
UFC fighter Paige VanZant has been absolutely crushing the dance floor on Season 22 of Dancing with the Stars, with consistently high scores, making her a ruler of the leaderboard all season long. And people have been noticing. Before receiving her scores on Monday's finals for her "redemption" salsa with partner Mark Ballas, she got a cute good luck message from none other than legendary action hero, Jean-Claude Van Damme. Curiously, Erin Andrews asked, "Is he a buddy of yours?" It turns out, Paige had been spotted by a few film producers, who created a role specifically for her in the upcoming film, Kickboxer: Retaliation, also starring Van Damme. Move over Ronda Rousey, there's another MMA darling in town.
Paige's film will be a sequel to the upcoming Kickboxer: Vengeance, which is due to be released in the fall, and stars another female MMA fighter, Gina Carano. Producer Rob Hickman said that casting Paige was an easy call, as her "star quality shines through on camera," which it definitely does. Though not extremely well-known outside the UFC world beforehand, Paige is certainly grabbing hearts and attention thanks to her turn on Dancing with the Stars. This isn't her first rodeo on screen either. Her first acting role was actually in a "cheesy" mop commercial for Bissel.
Ok so maybe hawking mops isn't exactly Oscar-worthy, but it's clear that Paige definitely has that oh-so-elusive "star quality" that makes her so much fun to watch whether it's on the dance floor, in the ring, or now on screen.
When judging their redemption dance, Carrie Ann Inaba mentioned Paige's improvement from the first time she performed this routine. She described how so many people start off strong and then never get better, but Paige has been improving consistently since Day 1. The difference in her dancing skills now and what they were the first time she performed that routine is remarkable, which leads me to believe that if Paige one day decided she wanted to go to Harvard Law, a la Elle Woods, she would probably kill it at that too. I don't think I've seen a movie about professional fighting since The Karate Kid but I might actually have to see this one.