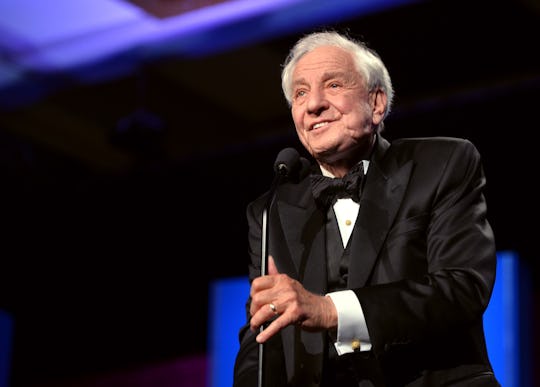 Alberto E. Rodriguez/Getty Images Entertainment/Getty Images
What Movies Was Garry Marshall In? The Director Had Plenty Of Cameos
Legendary producer and director Garry Marshall, the man who gave so many actors their first big breaks, died on Tuesday at the age of 81. Most fans probably think of him first and foremost as the creator of Happy Days or the director of Pretty Woman, but Garry Marshall also acted in many movies and television shows. Marshall often cast himself in small, uncredited cameos in his own films and TV shows, and eventually made a name for himself as an actor. Although he didn't appear in his most recent film, Mother's Day, he did pop up in 2010's Valentine's Day as a musician. Marshall also appeared in Runaway Bride, A League of Their Own, Never Been Kissed, and Beaches.
More recently, Marshall guest starred on The Odd Couple, the modern reboot of the show he originally adapted for TV in 1971. Marshall played Walter Madison, father to Matthew Perry's Oscar. He appeared in plenty of other TV shows over the years as well, ranging from one episode of Brooklyn Nine-Nine to a three-year arc on Murphy Brown as Stan Lansing. Most often, though, Marshall took minor roles. The parts were small, but the personality was always big, and anyone who's seen Marshall act will remember him fondly.
Marshall began his 50-plus year career in the entertainment industry as a writer for The Tonight Show in 1960, according to Variety, but it really took off in 1970, when he adapted the Neil Simon play The Odd Couple for TV. Two years later, he created Happy Days, which also spawned three successful spin-offs. Marshall moved on to film in the early 1980s, and found critical and commercial success with movies such as Overboard and Beaches before going on to create blockbusters like Pretty Woman and The Princess Diaries.
Marshall, who Vanity Fair reported died of complications from pneumonia following a stroke, launched the careers of dozens of stars over the years. He introduced the world to Julia Roberts in Pretty Woman, Anne Hathaway in The Princess Diaries, and after casting his sister, Penny Marshall, in Laverne & Shirley, she went on to have her own successful acting and directing career. "Thank you for my professional life," Henry Winkler tweeted on Tuesday night. Robin Williams' daughter, Zelda, tweeted that Marshall "forever changed my father's life, and thus, mine." Rob Lowe also credited Marshall for giving him his start in show business, as well as his wife, former makeup artist Sheryl Berkoff. The world mourns a true legend today.