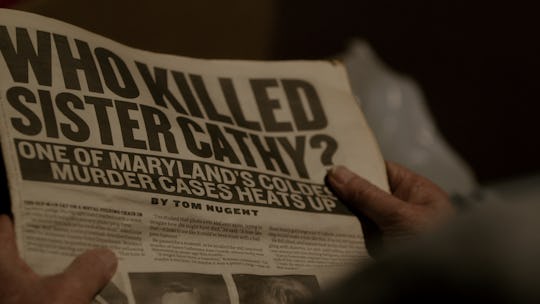 Netflix
Tom Nugent Has An Impressive Resume
Netflix's new series The Keepers focuses on a group of people who have spent years wondering about what really happened to Sister Catherine Cesnik. Cesnik vanished in November 1969. Two months later, her body turned up — she'd been strangled and beaten to death. The young nun's murder has gone unsolved for years, but Cesnik's former students at Archbishop Keough High School have teamed up with others (including reporters and former law enforcement officials) to continue seeking justice for her. With the premiere of the new series, many are now wondering — what newspaper does Tom Nugent write for?
Nugent, now in his 70s, has been invested in Cesnik's case for years. According to HuffPost, he is a former Baltimore Sun reporter — it was during his days at the Sun that he first covered the long-unsolved crime. The case had, in the early 1990s, seen a sudden resurgence in the public eye after two then-anonymous women (later revealed to be Teresa Lancaster and Jean Hargadon Wehner, two Keough alumnae) filed a civil lawsuit against Father Joseph Maskell and other church officials.
Nugent first connected with Gemma Hoskins (a Keough alumna and one of the primary stars of The Keepers who is investigating what truly happened to her former teacher) back in 2004. At that time, he interviewed her for his 2005 investigative feature "Who Killed Sister Cathy?" for the Sun, when she commented on her memories of having Cesnik as a teacher and being inspired in her own teaching career by the long-deceased nun.
According to the same HuffPost article, Hoskins reached out to Nugent (and began her own investigation into Cesnik's death in earnest) in 2013, asking when he was going to come back and "finish" cracking the true story of what happened to the nun. They, along with Abbie Schaub, Wehner, and Lancaster, are some of the key figures continuing to insist on a resolution to the nun's unsolved death. Nugent even runs a website called Inside Baltimore, dedicated to articles he's written (and still writing) related to the Cesnik case and to the Keough sex abuse.
Nowadays, Nugent is a freelance writer, so he is not tied to any one publication. The website for his book Death at Buffalo Creek goes into more detail about his career prior to going freelance. He worked as a reporter for the Detroit Free Press in the early 1970s, before moving on to spend five years as a feature writer for the Baltimore Sun, then eight years as a national correspondent in the Washington bureau of People Magazine. As a freelancer, he has reported and written for various other publications, like The New York Times, Washington Post, Chicago Tribune, and Boston Globe.
So many people are deeply invested in finding out the truth about Cesnik's death. Hopefully, with prolific writers like Nugent covering it and The Keepers bringing the story to the screen, the crime will be brought to national attention and resolved at long last.