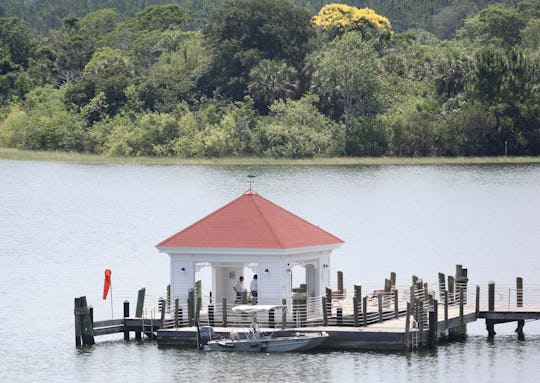 GREGG NEWTON/AFP/Getty Images
What Other Animals Are In Disney Lagoons? Some Animals May Be Hiding Beneath The Surface
When the shocking news broke on Tuesday night that a little boy had been attacked by an alligator at Disney World, Disney World no longer felt like the "Happiest Place on Earth." It also reminded everyone that Disney World is a real place in nature with real animals — and is not exempt from wildlife and nature to claim as their habitat there. But if alligators can live there, what other animals are in Disney lagoons?
As it turns out, there isn't much else that lives in the lagoons other than fish and well, alligators. The young boy, Lane Graves, was wading in the man-made lake — the Seven Seas Lagoon — right outside of Disney's Grand Floridian Resort before an alligator grabbed the young boy and dragged him below the water. According to USA Today officials found and removed five alligators from the lagoon where the boy had been wading. But what about other animals in the Seven Seas Lagoon?
According to Walt Disney World's list of recreational activities, you can bass fish in the Seven Seas Lagoon, therefore largemouth bass are definitely live amongst the animals in the lagoon. Disney has guided bass fishing experiences that take place out of Seven Seas Lagoon — as well as other Disney owned lagoons — all year round. According to the website, you can go out on a boat with an experienced guide and fish for largemouth bass right out of the lagoon. Pretty cool if you ask me.
Disney has a catch-and-release only policy that states all largemouth bass that is caught in the park's lagoons have to be released back into the lagoon. According to the Washington Post the Disney lagoons have the "highest large mouth bass catch rate of anywhere in Florida." Impressive.
While Disney doesn't specify exactly what animals, other than largemouth bass, live in its lagoons, it is safe to assume that snakes live in the Disney World lagoons. Snakes, like alligators, are native to all natural Florida lakes. And while the Seven Seas Lagoon is a man made lake, it is strong enough of a habitat to host alligators and therefore probably has a few snakes in it.
According to the Washington Post, Disney's lagoons are home to catfish, crappie, bluegill, longnose gar and chain pickerel — fish that survive in habitats like the Seven Seas Lagoon.
While alligators do exist in Disney lakes, you can be assured knowing that other than snakes, they are the most dangerous species currently existing in Disney lakes. Aside from that, largemouth bass and other fish species make up the very expansive and eco-diverse Disney lagoons.