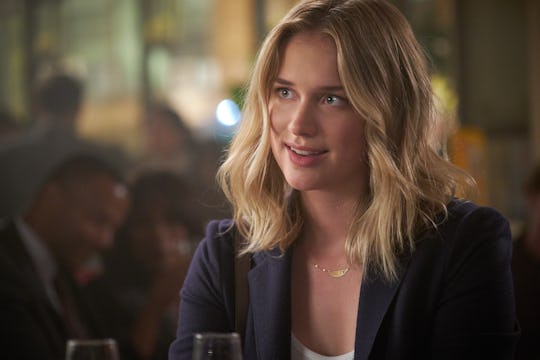 Lifetime
The Author Of 'You' Has Already Written A Sequel — & Then Some
Lifetime's new series, YOU, is based off a novel that won over fans like Stephen King. YOU's author, Caroline Kepnes, even helped put the TV show together. What other books has Caroline Kepnes written? YOU isn't her only novel.
According to her website, Caroline Kepnes has authored three novels so far: YOU, Hidden Bodies, and Providence. YOU was her first novel, debuting in 2014. Hidden Bodies is a sequel to YOU and came out in 2016. Her latest, Providence, is a standalone novel (so far) that came out in June of this year. YOU is the first of her works to be adapted for television.
YOU is a thriller that's been compared to Gillian Flynn's Gone Girl. It is written in the second person; the titular "you" is Guinevere Beck, the object of narrator Joe Goldberg's obsession. Joe is an independent bookstore owner in New York who spots Guinevere (who goes by "Beck") at his store. After she leaves he immediately looks her up online to find out everything about her: she graduated from Brown, she's getting her MFA in New York City, and she just so happens to be going to a bar in Brooklyn that night. After Joe arranges a "chance" meeting he begins to stalk and control Beck's life in a stalker novel worthy of our social media-obsessed culture.
While she's written three novels, Kepnes has also written short stories — and featuring other characters like Joe. In an interview with Pop Sugar in 2015, Caroline Kepnes discussed YOU and her writing process. "I've written a lot of short stories about people who are similar, but those are obviously much shorter, and then you're done," Kepnes said. In an interview with the Boston Globe this August, Kepnes said she would get so wrapped up in the plot that she would think Joe was real:
It was a little embarrassing at times because I thought, 'This is a little dark, and sick, and mean.' I would start talking about Joe like he was a real person to friends who were like, 'OK.' It was my security blanket, and I was very excited about it, but you never know if anyone else is going to get it. You don't know if you're going to get a referral to a therapist — or a book deal.
In Kepnes's case, she got a book deal — and then two more. She followed up YOU with Hidden Bodies, which continues Joe's story. She then published Providence in 2018; according to the Globe, it was the first novel published under Lenny, Lena Dunham and Jenni Konner's imprint at Random House.
Kepnes doesn't just write novels and short stories, either. When speaking with Drunk Monkeys, Kepnes talked about how she wrote pilots and scripts during and after college. Now she gets to use those skills to the test: Kepnes wrote Episode 8 of the Lifetime YOU series. She told Entertainment Weekly, "It's really diving into that idea of: Can love fix people and does it really triumph over everything."
Seeing as Kepnes published three books in the last four years, I'm sure she has no intentions of stopping anytime soon. Furthermore, YOU has already been renewed for a second season, so she may be back to write some scripts as well. There's no hint of a fourth novel yet, but if she keeps up the same pattern (2014, 2016, 2018), readers may have a new Kepnes book in their hands come 2020. For now, though, they can enjoy YOU come to life on Lifetime (with Gossip Girl Penn Badgley as Joe, no less!).