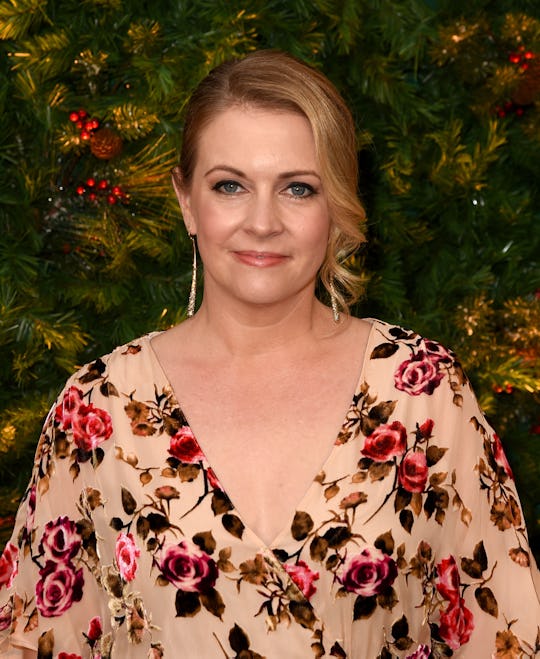 Kevin Winter/Getty Images Entertainment/Getty Images
Melissa Joan Hart Has A Seriously Impressive List Of Movie Credits
If you're old enough to remember Melissa Joan Hart in Clarissa Explains It All, congratulations — we're probably close to the same age. That show was, for a long time, my jam. Then, Hart went full witch-mode as Sabrina in Sabrina the Teenage Witch. I was there for it. But as she grew both as a woman, mother, and actress, she eventually meandered into movies. Her latest, A Very Nutty Christmas premieres on Lifetime soon, but what other Lifetime movies has Melissa Joan Hart been in?
First of all, Melissa's list of acting credits goes on way before A Very Nutty Christmas. Well, not forever, but as far back as the '80s. These days, she has a few Lifetime movies to discover, if you haven't already. There really couldn't be a better way to bring on the holidays with a little MJH, and she has a movie for every mood. If you're looking for another Christmas title, check out A Very Merry Toy Store, alongside Mario Lopez or The Santa Con with A Very Nutty Christmas co-star, Barry Watson. If a mystery is more your speed, try The Watcher in the Woods with Anjelica Huston. As you prepare to feast on all things festive this holiday season, here's the Lifetime movies you need to catch up on if you're to ever call yourself a true Melissa Joan Hart fan.
A Very Merry Toy Store
In this feel-good "You've Got Mail" type of holiday TV movie, Hart plays single mom, Connie Forrester who runs a family-owned toy store in Connecticut while Lopez plays Will DiNova — toy business rival. It just so happens both of their businesses are in jeopardy when a big box toy store "Roy's Toys" decides to do their grand opening in time for Christmas (of course). As luck would have it, Connie and Will band together to save their respective stores and maybe fall in love. Because, obviously.
The Watcher in the Woods
In this reimagining of the '80s classic, Hart executive produces and directs with Anjelica Huston as distraught mom, Mrs. Alywood, whose daughter, Karen, disappeared 20 years before in the English countryside. It's only when a new family moves into Alywood manor that Mrs. Alywood takes notice of the daughter, Jan, who looks similar to Karen. This new, curious family is told not to go into the woods, but of course they have to. There are voices and weird things happening that make Jan think her family's linked to Karen's vanishing. In her detective work, she finds a little more than she bargained for.
The Santa Con
In this Santa-spectacular, a con man takes a job as a department store Santa, promising to reunite a boy's estranged parents. Sounds equal parts heartwarming, and what the what? Watch this one to see the magic between Hart and Watson, alongside Jaleel White and Wendy Williams.
And if you're really just ready for A Very Nutty Christmas and need nothing more, that's OK, too. According to the official Lifetime movie site, this one is about, "Hard-working bakery owner Kate Holiday (Hart), has more cookie orders than she has time to fill this holiday season, and when her boyfriend suddenly breaks up with her, any shred of Christmas joy she was hanging onto, immediately disappears. After Kate hangs the last ornament on the tree and goes to bed, she awakens the next morning to a little bit of Christmas magic. She gets the surprise of her life when Chip (Barry Watson), a handsome soldier who may or may not be the Nutcracker Prince from Tchaikovsky's The Nutcracker, appears in her living room."
It doesn't really matter which Melissa Joan Hart movie you begin or end with. They're all great. And anyway, isn't movie-watching, indulging, and giving thanks what the holidays are all about?
This first-time mom wants to have a home birth, but is she ready? Watch how a doula supports a military mom who's determined to have a home birth in Episode One of Romper's Doula Diaries, Season Two, below. Visit Bustle Digital Group's YouTube page for the next three episodes, launching every Monday starting November 26.