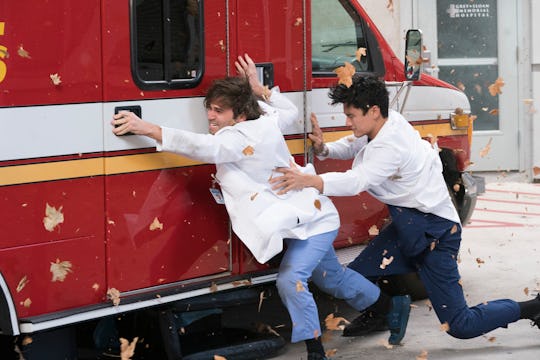 Tonight's Sandstorm Is Far From The First Natural Disaster On 'Grey's Anatomy'
Let's face it — you watch Grey's Anatomy for the improbable drama. And this week's winter finale is no different. The doctors at Grey-Sloan Memorial will be up against an intense windstorm. But this isn't the first time they've dealt with the forces of nature. In case you can't recall what other natural disasters have happened on Grey's Anatomy, I'm here to take you back.
Everyone remembers most of the series' pivotal episodes, which all seem to center around a traumatic event. There was the Season 3 ferry crash (which led to the infamous Meredith drowning scene), the Season 8 plane crash (the resulting deaths of which gave the hospital its current name), and, of course, the Season 6 shooting, when Cristina has to operate on Derek. And we can't forget the Season 2 bomb episode, aka the arc that earned Kyle Chandler an Emmy nomination, during which Meredith has to literally pull a bomb out of a person's body. So yeah, the show is no stranger to out-there scenarios.
But most of those were due to human error. Natural disasters have also been the source of some of Grey's Anatomy's landmark episodes. Here are the times when the Seattle docs have had to buckle down and face Mother Nature.