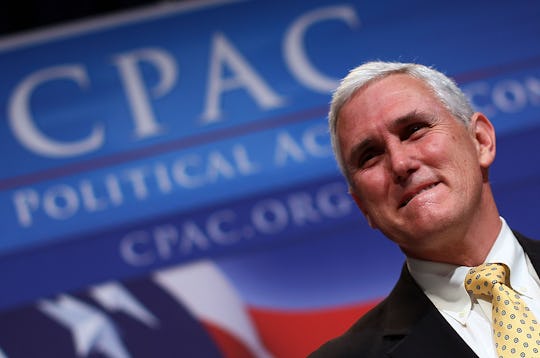 Win McNamee/Getty Images News/Getty Images
What Parents Should Know About Mike Pence & His Policies
According to The Indianapolis Star Trump will choose Indiana Gov. Mike Pence as his vice presidential candidate. The Trump campaign has not yet confirmed the reports and says Trump will still announce his decision on Friday. Pence has been the governor of Indiana for the past three years, and in that time he's managed to pass some of the most socially conservative laws in the country, and most of them have not been very beneficial to one of Indiana's largest populations: parents. Here's what parents should know about Mike Pence.
UPDATE: Trump confirmed Pence as his vice presidential running mate in a tweet Friday morning and said he would host a news conference on Saturday.
Pence is well known for a few key actions he's taken during his governorship. First, when it comes to protecting the rights of LGBT people and their families, he's not on board. According to the Indy Star, Pence has supported legislation to ban same-sex marriage. According to NPR, Pence is a born-again Christian and much of his popularity among Evangelical voters is his espoused notion of the family. His view is a very narrow one, wherein there is a husband and a wife and children, raised in the church. He is not concerned with protecting families that fall outside of that definition, and in fact has passed laws that are detrimental to their survival. According to NPR, Pence explained his priorities as an elected official while being interviewed on the Christian Broadcasting Network. In Pence's own words, "it all begins with faith; it begins with what matters most, and I try and put what I believe to be moral truth first. My philosophy of government second. And my politics third."
Parents should also be concerned with the laws Pence has supported that overtly limit the rights of LGBT people in Indiana. LGBT children growing up in the United States should not have to fear being themselves, but unfortunately that is what is at stake with Pence in power. In 2015, he signed the Religious Freedom Restoration Act, which effectively would have allowed businesses to refuse service to LGBT patrons because of their religious beliefs. The act was later amended, but only after businesses told Pence and the government they were going to pull their money and developments out of the state.
Furthermore, he's voted against expanding healthcare and food stamp programs in his state time and time again. According to On the Issues, Pence voted yes to limit funds for public health, voted against subsidies for family healthcare, voted no on expanding the children's health insurance program, and voted against regulating tobacco use. When it comes to government assistance on things as basic and as vital as family health, Pence has shown that he would rather use governmental funds elsewhere. This may go without saying, but despite the epidemic of gun violence wracking the United States, Pence is very much pro-gun and anti-gun violence prevention measures.
Finally, on the issue of reproductive rights, Pence has an even worse track record. In fact, NARAL Pro-Choice America gave him a zero rating for his platform and legislature. Why? Earlier this year he passed a law that outlawed a woman's ability to terminate pregnancies based on fetal abnormalities or other fetal characteristics, according to The New York Times. He also passed a law that limited the number of abortion and women's health clinics in Indiana by requiring doctors to have admitting privileges at a hospital nearby, which for many clinics (usually the ones needed most) was unfeasible. (A similar law in Texas was found unconstitutional by the Supreme Court just recently.)
But that's not all. That law required aborted or miscarried fetuses to be buried or cremated, regardless of how far along that fetus was, according to NPR. In a statement, Pence said he passed the law to be "a comprehensive pro-life measure that affirms the value of all human life." Luckily, those values were not put into action. In June, a federal judge overruled the law, according to the Indy Star.
When it comes to women's health and abortion, Trump has, from time to time, set himself apart from more conservative Republicans, according to CNN. NBC News reported that Trump even came out and said that he wanted to try to change the Republican platform on the issue to move it further right. Perhaps not surprisingly, he's since changed his mind. The campaign has done nothing to change the party line, and the selection of Pence as a running mate confirms that, if anything, the GOP's platform will change for the worse.