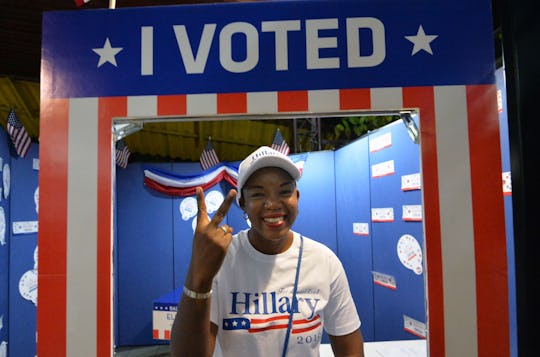 SIA KAMBOU/AFP/Getty Images
What Percentage Of 2016 Voters Were Women? The Female Turnout Was High
As some of the early poll results trickle in, analysts are starting to take a deeper look into the voter demographics. And, with 2016 marking the first time a female nominee is on the ballot, many my be wondering what percentage of 2016 voters were women.
But first, a quick history lesson. As History.com noted, women were granted the right to vote in 1920 through the 19th Amendment. Since then the numbers in which they've come out to vote has steadily increased. According to Vote Run Lead, exit polls reported that 53 percent of voters in the 2012 election were women. This means that women determined the outcome of that election.
There is also some preliminary evidence that there was a big turnout of women participating in early voting for this election as indicated by the voting data firm TargetSmart. According to the firm's analysis of 46.3 million early voters, 56 percent of votes were cast by women. The firm explained that the proportion was about the same across every age group, and with both women who have recently registered and those who've been registered for awhile.
The official numbers of women voters in 2016 has not yet been determined, but evidence is clear on social media that women are getting out to the polls in significant numbers. The hashtag #DedicateYourVoteToAWoman is trending on twitter, many of the tweets showing pictures of women voting and dedicating their vote to their mothers and ancestors who were not able to vote.
Many women also dedicating their vote to the future generations of daughters, goddaughters, and granddaughters.
Social media isn't the only marker of an increase in women voters in the electorate. Startup news content site, theSkimm, boasted that through their partnership with Rock the Vote, more than 110,000 of their readers have registered to vote — nearly 95,000 of whom are women.
Probably one of the most emotional indications that women are coming out in droves to the polls is shown by the number of "I Voted" stickers gracing feminist activist Susan B. Anthony's grave in Rochester, NY. The local news station there WROC live-streamed women walking up to Anthony's grave to proudly place their voting stickers all day. She played a huge role in the women's suffrage movement, but died before she had the chance to vote. It's probably safe to say, she would be extremely proud of this historic moment where not only are women voting and coming out in large numbers, but that there is also a woman with a high title on the ballot.