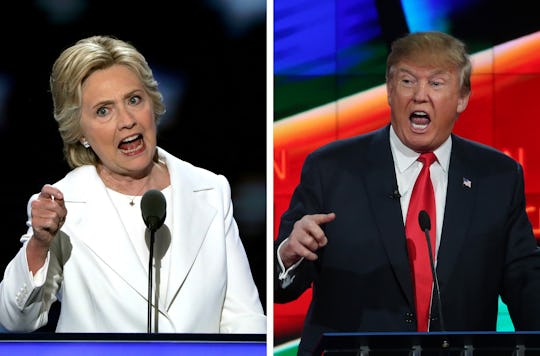 Alex Wong/Getty Images News/Getty Images
What Presidential Debate Questions Will Be Asked? The Topics Are Pretty Broad
The first presidential debate set to take place on Monday night, and it's safe to say that the American public is waiting with baited breath to see things go down between Democratic candidate Hillary Clinton and Republican candidate Donald Trump. (A few of us up in Canada may be feeling the same way.) While planning a debate-watching party, some might also be preparing for the debate itself and might be wondering what presidential debate questions will be asked. Luckily for viewers, moderator Lester Holt has released a list of topics for the debate. Less luckily for viewers, that list is fairly short and rather vague.
Usually, moderators pick six topics for candidates before debates begin, but Holt chose to select only three for the upcoming debate, giving each topic about half an hour of air time. According to the Commission on Presidential Debates, Holt announced that "America's Direction," "Achieving Prosperity," and "Securing America" would be the topics up for debate on Sept. 26. In other words, the public can likely expect to hear Trump and Clinton duke it out over the economy, terrorism, and — well, America's direction (a topic so unclear that it's becoming something of a mockery on social media). According to Politico, the topics could also change, depending on news developments leading up to the presidential debate.
Based on the very little amount of information given about the first presidential debate, it's hard to predict what NBC News' Holt will ask the two candidates. However, the first debate is definitely going to be high stakes: Considering that the GOP debates last year were some of the most highly watched programs television (or at least CNN) has seen, the Clinton-Trump debate is expected to shatter records. It'll also be Holt's first time moderating a presidential debate, making him a wild card that Trump's campaign is not so sure it likes. (Trump has also said he'd prefer it if moderators didn't fact-check candidates' statements. In fact, he'd rather not have any moderators at all, according to TheWrap.)
It's going to be an interesting debate, and many viewers would probably love to see the candidates questioned on the recent explosion in New York, the deaths of black men at the hands of police, gun regulation and control, and Russian hacking scandals. Personally, I'd be happy to see moderators (and candidates) stay away from the subject of Trump's treatment of women and Clinton's email server — and dig into policies of substance that will affect everyday Americans and display candidates' readiness for office.