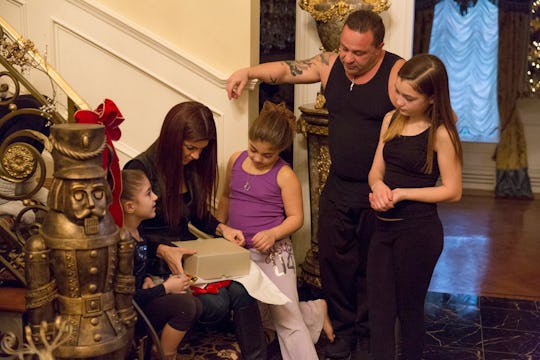 Greg Endries/Bravo
What Prison Is Joe Giudice In? The 'RHONJ' Star Is Adjusting To His New Life
We all saw the emotional reunion of Teresa Giudice with her family on the return of The Real Housewives of New Jersey after her one year stay in prison. Even I, hardened reality television writer that I am, shed a tear or two as Teresa's four daughters smothered her with hugs in the living room. Unfortunately, the family's joy at being all together again was doomed to be short lived. Now that Teresa has come home, it's time for Teresa's husband Joe to start serving his, much longer, sentence for fraud and conspiracy to commit fraud. So what prison is Joe Giudice serving his time in? Joe's new home for the next three or so years will be FIC Fort Dix, a minimum security federal penitentiary in New Jersey.
As has already been widely reported, Joe joined fellow Real Housewife husband Apollo Nida, who is (at least legally for now) married to Real Housewives of Atlanta star Phaedra Parks. If you're wondering if the two reality TV buddies are hitting it off, I wouldn't expect any type of a spinoff just yet. Not to say that they aren't friends, but they might just not see a lot of each other. Teresa has said, "I don't know if [Joe and Apollo] in the same area, but they definitely met. So Joe said he was a really cool guy."
Incidentally, Apollo and Joe are not the only famous inmates of Fort Dix. The facility has housed other notable figures including legendary narcotics trafficker George Jung who was released in 2014 and was portrayed by Johnny Depp in the movie Blow, and politician Buddy Cianci, the former mayor of Providence, Rhode Island, who was convicted of fraud and racketeering.
As we've all probably gleaned from excessive viewings of Orange is the New Black, Joe's new life at Fort Dix is extremely regimented. He has a 6 a.m. wake-up call, and is assigned a job. Phone calls are limited to 15 minutes per call, and a maximum of 300 minutes per month. Television and microwave privileges are restricted to a strict schedule, as is the dress code. The handbook also states that uniform must be worn unless during recreational times, and shirts must be tucked in, with absolutely no sagging of pants.
But according to Joe, he could be out in as early as 18 months. And in interviews, Teresa has maintained that he is adjusting well. Just don't ask her the deportation thing.