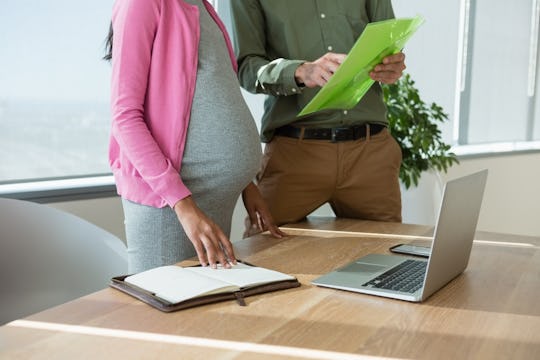 WavebreakMediaMicro/Fotolia
Here Are The Questions Your Employer Is *Actually* Allowed To Ask About Your Pregnancy
Navigating the workplace as a woman can be difficult, and it can become even difficult when you are pregnant or trying to conceive. If you are pregnant or hope to be in the future, it's natural to wonder what you should tell your employer, and what exactly they are allowed to ask about your pregnancy. Thankfully, there are some legal ramifications most employers must consider when discussing your reproductive choices that, for the most part, protect pregnant women in the workplace.
The answer, it seems, depends on the size of your employer and what, if anything, they intend do with the information. Unfortuntely, the laws protecting pregnant women from discrimination don't apply to all employers, and according to American Association of University Women, they can be both hard to understand and even harder to enforce. According to the U.S. Equal Employment Opportunity Commission (EEOC), the Pregnancy Discrimination Act (PDA) prohibits employers with 15 or more employees from discriminating against you because you are pregnant. Unfortunately, as Suzanne Lucas, "The Evil HR Lady," explains to CBS News, that doesn't mean they legally can't ask you about your pregnancy. According to workplacefairness.org, you don't have to let your employer know you are pregnant, even if they ask, but you may need to let them know if you are planning to take leave after your baby is born. The EEOC adds that an employer may also ask you questions related to your safety, and the safety of others on the job, during your pregnancy, and may not be required to keep you in a position that poses a safety risk.
If this all sounds confusing, that's because it totally is. Read on for the facts about what questions your employer can actually ask you about your pregnancy, and how you might answer if you're put on the spot.