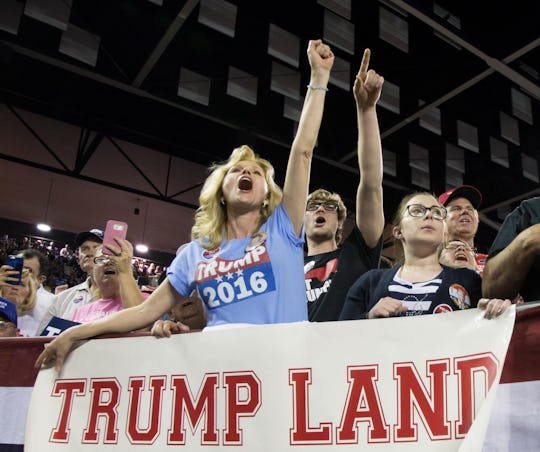 Mark Wallheiser/Getty Images News/Getty Images
What Republican Will Win Super Tuesday? The Numbers Already Point To A Likely Victor
Super Tuesday is widely considered the most important day of the primary season, and if you want to know what Republican will win Super Tuesday, you might not be prepared for the surprisingly definitive answer. At present, the data all point to one man, and his last name rhymes with rump. (No, sorry — it's not Donald Drumpf, John Oliver.)
According to an analysis at Politico by British professional political gambler Paul Krishnamurty, Republican presidential candidate Donald Trump is a "runaway train." Not one to parse words, Krishnamurty writes, "From the market's perspective, it's nearly all over. All the smart money is now on Trump." No, but tell us what you really think. Using gambling odds numbers, Krishnamurty explains that while the marketplace of political gambler stakeholders had placed Trump's odds of winning the nomination at 53 percent prior to the Nevada primaries, they're now at 78 percent. Krishnamurty attributes this surge to New Jersey Gov. Chris Christie's endorsement of Trump.
Tuesday's outcomes are vitally important because about half of the Republican delegates will be decided amongst 12 state races, including caucuses or primaries in Texas, Georgia, and Virginia. And it's not just the election gambling marketplace that points to Trump — it's the polls, too. The poll aggregation site RealClearPolitics has Trump winning five of the six states that had reliable polling data available for the month of February. If Sen. Ted Cruz has any hope, it comes from Texas, a populous state with 19 percent of the electorate that still favors Cruz by nine points.
The sobering data doesn't end there. The widely-respected poll analysis website FiveThirtyEight currently predicts that Trump will win in five of the six states that it has modeled—though, again, its models say that Cruz has an 87 percent chance of taking Texas.
According to Bloomberg Politics, the one area where Trump still lags is official endorsements from other politicians. Yes, he managed to land Christie, but many establishment politicians are still pulling for Cruz or Florida Sen. Marco Rubio. Cruz has overwhelming endorsement in Texas, including from Gov. Greg Abbott and 62 state lawmakers, while on Sunday, Rubio snagged an important endorsement from Tennessee Sen. Lamar Alexander.
In a Republican election season where "politician" has become a dirty word, these official endorsements aren't seeming to stem the tide of populist support for Trump. To the continued chagrin of those who see Trump as an ignorant, smug, bona fide narcissist who is a threat to the very Democratic principles upon which our nation stands, Trump continues to be admired by those who have a vaguely defined distaste for political correctness and a generalized disillusion with the political process.
And frighteningly, Trump also has support within the white supremacist movement. As reported this week at The New York Times, "intentionally or not, Mr. Trump's remarks are resonating with — and mobilizing — white supremacists, many of whom have traditionally refrained from participating in the political process."
As for Paul Krishnamurty, the political gambler, Trump's ascension has come as a surprise. "Personally, I'm feeling more than a bit of frustration," he wrote at Politico. "My original analysis was that an outsider would win the nomination. I just assumed it would be Cruz, not Trump." Perhaps echoing the feelings of large swaths of Americans from every corner of the country, Krishnamurty isn't quite ready to call it, despite his own numbers. "While the market may be calling the race over, I'm not ready to," he continued. "The GOP establishment has every incentive to resist Trump for as long as they can."
And so, too, does the American public.