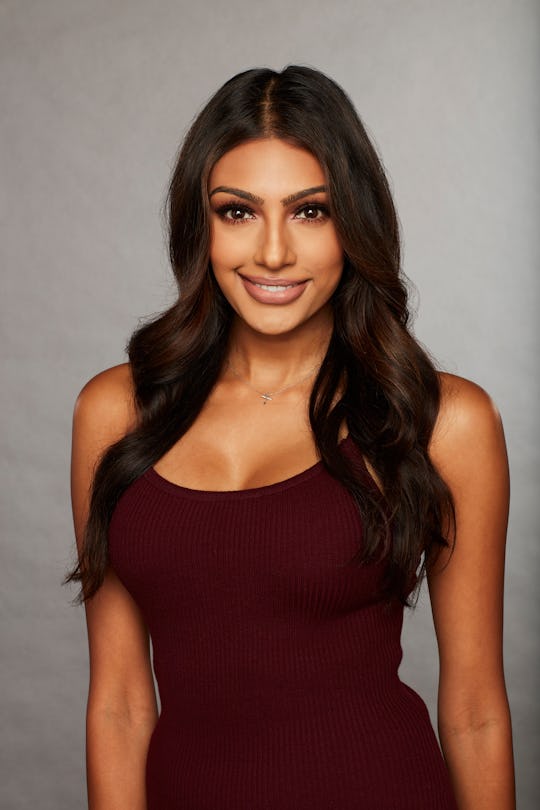 Craig Sjodin/ABC
Marikh From 'The Bachelor' Owns A Successful Restaurant
There are those Bachelor contestants that list their professions as "aspiring dolphin trainer" or "twin," and then there are those that immediately exemplify how talented they are. Last year, Raven Gates showed off that she was a boutique owner, and now one of Arie Luyendyk Jr.'s contestants, Marikh Mathias, is doing the same thing as a restaurant owner. So what restaurant does Marikh from The Bachelor own? The 27-year-old from Salt Lake City, Utah is one of the 29 women that will compete for Arie's love this season on The Bachelor and I think she has a shot of being a strong contender. Considering she's a restaurant owner, her management skills may bring her to the top — and I'd guess she's probably an excellent cook, too.
According to Reality TV World, Marikh Mathias owns a restaurant called Karma Indian Cuisine. I did some Googling and a restaurant with that name and located in Sandy, Utah comes up on Yelp. It has a rating of four out of five stars based on 70 reviews, which is a great sign. Reviews often praise the atmosphere, the menu choices — and of course, the food itself. Reality TV World notes that Marikh has owned the restaurant since 2014, the year she graduated the University of Utah with a Bachelors in Strategic Communication. She's not pursuing this venture at Karma alone: she co-owns the restaurant with her parents.
Apparently, Marikh wasn't always a restaurant co-owner. She previously worked as a director of social branding at Social Paragon — so viewers know she's great at the social media game. As for her cooking skills? I'd say my assumption was correct. In Marikh's ABC biography when asked about how good of a cook she is, she said, "I cook all the time and my mom is a chef, so I would say I'm pretty good." I hope that Marikh will get a chance to show Arie her skills during the show; maybe there will be a cooking class group date? I know, it sounds cheesy, but considering that Nick Viall's suitors shoveled manure in Wisconsin last year, I'm sure the contestants wouldn't mind something like this.
Marikh has entrepreneurship and social branding under her belt... that should be enough, right? Nope. Marikh is also a model with her own IMDB and Broadway Talent Agency page. To me, Marikh seems like she's a great contender. Will she be the one to ultimately show off that Neil Lane ring? Of course, I don't know yet, however, The Bachelor himself has already hinted that this season was a bit rough for him.
Arie revealed to Entertainment Tonight that he said "I love you" to more than one woman, which is not typical of other Bachelors. In the past (Nick, for example), they've reserved saying "love" up until the very end, even if contestants have said it to them, because they didn't want to give that commitment too soon. "I really had strong feelings for more than one person," Arie said. "I'm very happy but it wasn't without hard times."
Judging from these remarks, Arie is definitely taking this opportunity seriously. "You look for a person that can fit into your life and vice versa," he continued to Entertainment Tonight. "It's easy to get wrapped up in the environment to be in love, going on these amazing dates. But you really have to look past the show into your regular life."
Could Marikh be the one who wins over his heart? There's no knowing yet, but considering she not only has a great career but also great cooking skills (oh yeah, and she's beautiful), I wouldn't be surprised if Arie falls for her this season.
Check out Romper's new video series, Romper's Doula Diaries:
Watch full episodes of Romper's Doula Diaries on Facebook Watch.