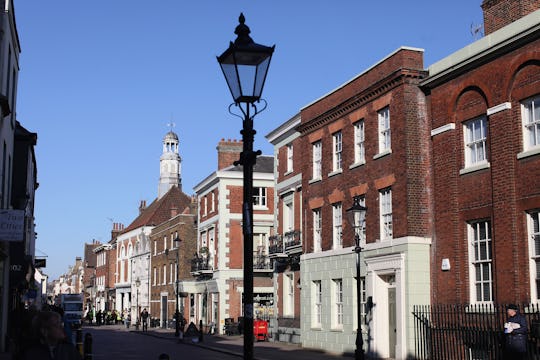 What Rochester Bar Was Emanuel Lutchman Planning To Attack? His ISIS-Driven NYE Plot Could Have Been Horrific
Federal prosecutors in Rochester, New York, have arrested a local man for allegedly plotting a gruesome New Year's Eve attack against civilians in support of the terrorist group ISIS. According to NBC News, 25-year-old Rochester resident Emanuel Lutchman had allegedly planned a machete and bombing attack on innocent diners at a local bar. So, which Rochester bar was Emanuel Lutchman planning to attack? While details of Lutchman's reported plot remain unclear, it could easily have had horrific consequences for city residents.
The details that federal investigators have so far released about Lutchman's alleged plot are alarming. Authorities said the self-proclaimed Muslim convert had recently been in contact with an individual who identified himself as a member of ISIS. NBC News reported that authorities caught up to Lutchman after receiving a confidential tip from someone who had paid for masks, zip-ties, knives, duct tape, ammonia, and latex gloves in preparation for an armed attack. On Dec. 28, Lutchman allegedly told an informant posing as another ISIS supporter that he planned to sneak a bomb into a local club or bar, kidnap a few people, and kill them, according to NBC News.
FBI officials arrested Lutchman on Wednesday and confiscated a video where he swore allegiance to ISIS leaders and took responsibility for the plot in Rochester. Lutchman is now facing federal terrorism charges including attempting to provide material support to an ISIS group, according to NBC.
Lutchman has a history of mental health issues and run-ins with law enforcement, according to the Washington Post. According to local NBC affiliate WHEC, Lutchman served five years in prison stemming from a 2006 armed robbery convention. He had also had multiple mental hygiene arrests; the New York State Office of Mental Health defines a mental hygiene arrest as being taken into custody for mental health issues deemed by law enforcement as posing a danger to the patient or others.
Lutchman said he was prepared to carry out his plan and commit the attacks, according to NBC News:
[T]hat's what my plan, that's on my mind, that's all I been thinking about. Cause I'm getting amped up, to accept the fact that's what I gotta do.
However, the one detail missing from reports on the case is exactly where Lutchman planned to carry out the attack. WHEC reported that the official complaint omitted the name of the exact bar or restaurant at the center of Lutchman's alleged plan. And it isn't easy to determine which area establishment might have been his target. With a population just over 200,000, according to the 2010 Census, Rochester is the third largest city in the Empire State.
If Lutchman's plan to take out "as many as possible" is to be believed, that would mean targeting the New Year's Eve festivities happening, naturally, in the middle of downtown Rochester. A fireworks show scheduled for 10:00 p.m. Thursday night would draw even more city residents into the downtown area — and potentially into the more than ten most popular bars and restaurants nestled around the city center.
In a statement to local news stations after Lutchman's arrest, Assistant Attorney General John Carlin applauded law enforcement's quick action, according to WHEC:
Thankfully, law enforcement was able to intervene and thwart Lutchman's deadly plans. This New Year's Eve prosecution underscores the threat of ISIL even in upstate New York but demonstrates our determination to immediately stop any who would cause harm in its name.
Lutchman faces a maximum of 20 years in federal prison and fines up to $25,000, according to WHEC.
Image: Oli Scarff/Getty Images News