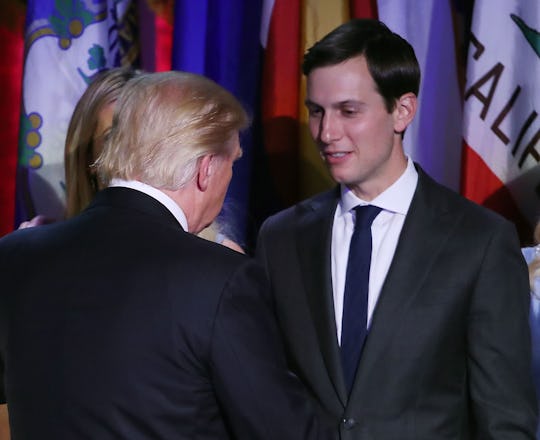 Mark Wilson/Getty Images News/Getty Images
What Could Jared Kushner's Role Be In Trump's Administration, & Is It Even Legal?
In the run-up to what promises to be the most unusual presidential administration ever, President-elect Donald Trump has everyone scrambling to brush up on their legal and Constitutional knowledge. Can he even do the things he's doing? We've already heard that Trump's wife and young child plan to stay in New York while his eldest daughter, Ivanka, assumes some of the first lady responsibilities. (The allegation concerning Ivanka has been denied by Hope Hicks, Trump's spokesperson.) But what about Ivanka's husband? Will Jared Kushner have a role in Trump's administration? The couple is reportedly house hunting in Georgetown, so it doesn't look like Kushner will be sticking around New York to run his newspaper.
Trump's transition team hasn't announced any formal role for Kushner, but campaign manager Kellyanne Conway did tell Good Morning America that "he will continue to be ... an adviser" to Trump, according to ABC News. But isn't that illegal? Well, nobody knows for sure. A 1967 anti-nepotism law says that Trump "may not appoint, employ, promote, advance, or advocate for appointment, employment, promotion, or advancement, in or to a civilian position in the agency in which he is serving or over which he exercises jurisdiction or control any individual who is a relative of the public official," but there is some wiggle room.
Ironically, the precedent was set in 1993, during the Clinton administration, when President Bill Clinton appointed then-first lady Hillary Clinton to chair a health care reform task force. They were sued, and a court ruling found that the White House and Executive Office of the President were not agencies, and thus the law did not apply. Some also believe that Trump could work around the law by simply not paying a salary to his son-in-law (not officially, anyway), while Newt Gingrich recently suggested that Trump could simply pardon his family if they were found to be in violation of any laws, according to Talking Points Memo.
Kushner has been a top adviser to his father-in-law throughout the campaign, and a source told CNN that he will have an office in the West Wing. Meanwhile, the first lady's office in the East Wing will be turned into the "Office of the First Family," and likely occupied by Ivanka. Melania's role remains unknown, as well, but during a rare campaign appearance in early November, she did say that she'd like to work to combat cyberbullying. It's ironic, considering that mean tweets are something her husband is known for, but honestly, nothing about a Trump presidency is the least bit normal, so why start now?