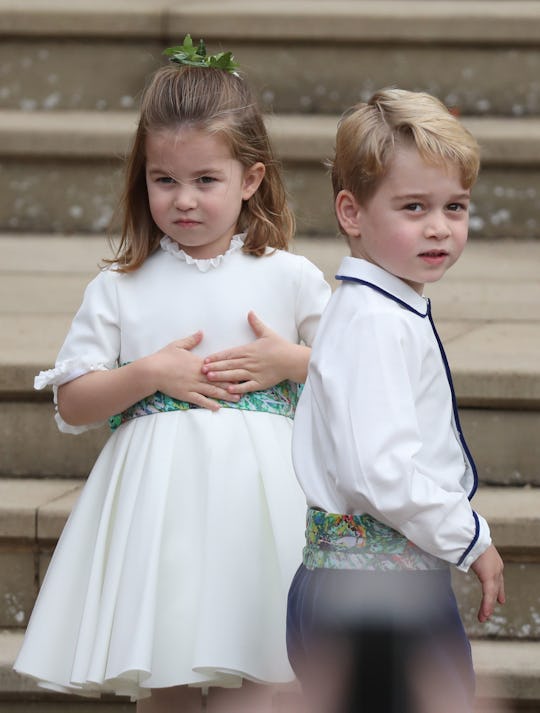 WPA Pool/Getty Images Entertainment/Getty Images
Prince George & Princess Charlotte Stole The Show At Another Royal Wedding
The royal family was out in full force on Friday to attend Princess Eugenie's wedding to Jack Brooksbank. But of all the guests at Princess Eugenie's wedding, Prince George and Princess Charlotte stole the show — at least in my eyes. The little Prince and Princess were not just guests at the wedding, they were integral parts of the ceremony. Serving as page boy and bridesmaid, they may have been the cutest part of the whole day.
George and Charlotte arrived at the wedding along with the rest of the page boys and girls, but they certainly stood out from the crowd. Charlotte was a literal angel in her dress, turning to give what has become her signature wave to the cameras, and George was the picture of miniature royal dignity. Little brother Prince Louis wasn't in attendance, but his mere months on Earth give him a pass.
If you think that the Prince and Princess look awfully comfortable in their roles as page boy and bridesmaid, it's because they've had some practice. Princess Eugenie's wedding marks the siblings' third time serving in these capacity at royal weddings, and fourth time in a wedding overall, according to Harper's Bazaar. They also participated in Meghan Markle, Pippa Middleton, and Sophie Carter's weddings — looking absolutely adorable each and every time.
Choosing child relatives and friends' children to play the role of bridal attendants is common in British royal weddings, as Town & Country reported. Princess Eugenie's bridal party had six bridesmaids, including Charlotte. She was joined by Mia Tindall, Savannah Phillips, Isla Phillips, Maud Windsor, and Theodora Williams. Eugenie's sister, Beatrice, was the maid-of-honor, and cousin Lady Louise Windsor was a special attendant.
As with the other royal weddings that the two little royals have participated in, they once again stole the show. The two wore matching uniforms along with the rest of the bridesmaids and page boys, which were designed by Amaia Arrieta of Amaia Kids, according to USA Today, who just so happens to be one of Kate Middleton's favorite child clothing designers. Charlotte's bridesmaid flowers were smaller versions of Eugenie's bridal bouquet, designed by Rob Van Helden, and included sprays of Lily of the Valley and roses. While they filled their roles in the wedding with the expected amount of royal dignity, they are still kids and their playfulness made that clear.
Their favorite playmate at Eugenie's big day appeared to be their cousin, Savannah Phillips. The two were seen laughing and joking around alongside her on the steps of St. George's Chapel prior to the ceremony, even pretending to play imaginary instruments, as USA Today reported.
At past royal weddings, the Prince and Princess have fallen into specific roles where one takes the lead in the procession. At Sophie Carter's wedding in September, a source told People that Prince George was running things. "George is a real star, quite the little chap," the source said. "He was having a great time, running around like the leader of the pack." Charlotte took the reigns at Prince Harry and Meghan Markle's wedding, though. A guest from the ceremony told People that the Princess was keeping everyone in line:
She was really sweet. There was one girl who wanted to go and she said, 'No you can't go yet. We have to wait until we are asked.' She was really organized!
While it's not clear yet which of the siblings took charge at Princess Eugenie's wedding, one thing is clear: they had a lot of fun on her big day, and they sure looked cute doing it. Here's hoping that the two of them will be in another wedding soon!