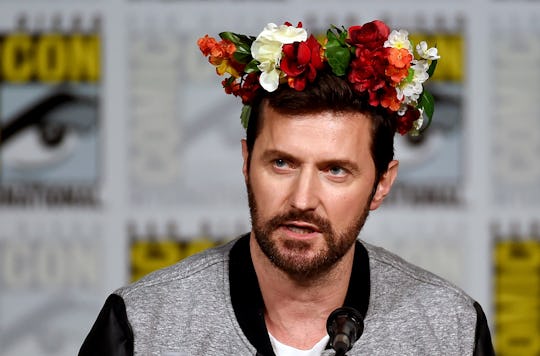 Ethan Miller/Getty Images Entertainment/Getty Images
What Role Does Richard Armitage Play In 'Alice Through The Looking Glass'?
It's been six years since fans of Alice In Wonderland fell through the rabbit hole and into Johnny Depp's eccentric arms, and on May 27, they will be able to relive the magic with the film's highly anticipated follow up Alice Through The Looking Glass. The sequel will feature a number of returning cast members, like Depp as the Mad Hatter and Mia Wasikowska as the titular Alice. The film also boast a number of new faces, including a very swoon-worthy Richard Armitage. So what role does Richard Armitage play in Alice Through The Looking Glass?
According to IMDB, Armitage will play King Oleron, father to Mirana and Iracebeth (played by Anne Hathaway and Helena Bonham Carter, respectively.) This may seem like an odd casting, considering Armitage is younger than Bonham Carter and not too much older than Hathaway. But don't forget — Wonderland is a world where a girl can grow to the size of house after drinking just a drop of a special drink.
In the book, Through The Looking Glass, Alice first comes across King Oleron during what appears to be a coronation for Mirana and Iracebeth. In the encounter, she notices that the sisters look much younger than when she first met them.
Mirana and Iracebeth made up half the party on the stage. Their faces appeared much younger; they looked to be about Alice's age. Even more surprising, Iracebeth's head, while still larger than normal, wasn't quite as gargantuan as when Alice had first met her. Judging by their crowns, the two people sitting with them must be the sisters' parents — King Oleron and Queen Elsmere. Mirana had spoken of her parents so briefly, so Alice didn't know much about them beyond their names, but they both smiled pleasantly down at the gathered villagers.
Without giving away too many deals (and not having seen the movie or read the books myself) it seems this scene gives viewers a little more insight into how the queens grew up and became the villain (or, hero in Mirana's case) that Alice knows.
But you may not even notice the sisters, because you'll be too busy staring into Armitage's smoldering eyes. I mean, seriously, have you looked at this man.
Though Armitage is new to the world of Wonderland, he is not stranger to Hollywood. Born and raised in Leicester, England, the 45-year-old actor's resume includes starring roles in Captain America: The First Avenger and The Hobbit trilogy, as well as a lead role in Hannibal.
It is unclear if there will be a third Alice movie or not, but let's hope that Armitage's role is big enough to star in that as well.