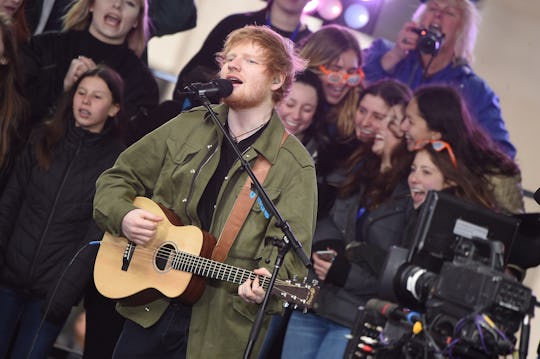 Jamie McCarthy/Getty Images Entertainment/Getty Images
Ed Sheeran Will Guest Star On 'Game Of Thrones'
Game of Thrones fans and fans of singer-songwriter Ed Sheeran were treated to a special surprise on Sunday after showrunners David Benioff and D.B. Weiss announced Sheeran would be guest-starring on Game of Thrones during a panel at South by Southwest (SXSW), in Austin, Texas. The two specified that Sheeran, 26, would be guesting in an episode of the HBO series' seventh season, which premieres July 16. As for Sheeran's role? No word yet on who exactly he'll be playing — but it's guaranteed to be a good time no matter what.
"For years, we tried to get Ed Sheeran on the show to surprise Maisie (Williams, who plays Arya Stark), and this year we finally did it," Benioff said, according to E! News.
Whatever role he gets, Sheeran is undoubtedly joining the cast at an exciting (albeit panic-inducing) time: Back in August 2016, Williams herself tweeted a preview of the upcoming Season 7 with a few simple, dark messages for fans. "Just finished reading season 7," she tweeted on Aug. 22. "Sh-t gets REAL. I'd start preparing yourselves now. Scratch that, nothing will prepare you for this." Williams followed up the tweets, exclaiming simply, "Holy BALLS." (If you're a devoted fan of the show and aren't anxious by this point, I admire you.)
In response to the news on Sunday — which immediately went viral — Sheeran tweeted humorously, "Guess the cats [sic] out of the bag."
As Variety pointed out, Sheeran might not be recognizable at all when he finally appears on the show (as of yet, the showrunners have not announced which of the episodes he'll be in). "Past Game of Thrones musical cameos have included members of Coldplay, Mastodon, Of Monsters and Men, and Sigur Rós," the outlet reported. "There's no confirmation if Sheeran will be singing or performing (like Sigur Rós and Of Monsters and Men) — nor even if he'll be recognizably himself when he appears on-screen. (Members of Mastadon played unrecognizably zombified Wildlings.)"
Regardless, it'll likely be a good time for all involved (death, monsters, and classically morbid Game of Thrones themes aside). Even sweeter, the cameo was "meant to be a surprise for [Williams] during filming," according to The Wrap, although it'll likely still be just as exciting, despite the fact that the secret's out now.
Whatever role Sheeran ends up with, he'll more than likely do a fine job — and hopefully, with any luck, his presence will soften the blow from whatever major character deaths the showrunners have in store for fans later.