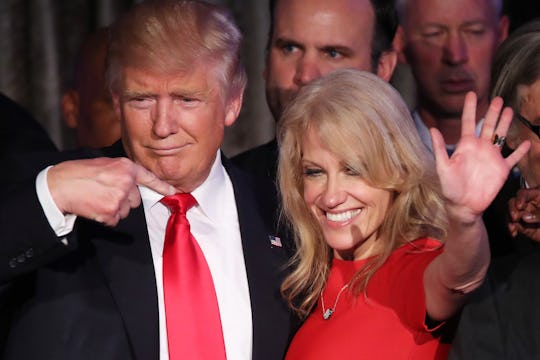 Mark Wilson/Getty Images News/Getty Images
What Role Will Kellyanne Conway Have In Trump's Administration? Nothing's Official Yet
When Donald Trump secured victory over Hillary Clinton in last week's presidential election, Kellyanne Conway — his third and final campaign manager — became the first woman in U.S. history to successfully run a presidential campaign, according to The Week. Following her appointment in mid-August, Conway quickly became known in the media as the "Trump whisperer," and is largely credited with helping Trump become more disciplined on the campaign trail and gain ground with female voters. Now that the election dust has settled, though, what role will Kellyanne Conway have in Trump's administration? She recently revealed on Twitter that she'd been offered a gig in the White House, but declined to specify the capacity in which she might serve.
In an interview with the New York Post, Conway said she was ready and willing to move to Washington, D.C.:
I will absolutely go somewhere for my highest and best use for this particular president and his administration — and I certainly will confer further with Mr. Trump in the upcoming days about what that is.
According to Politico, Conway is likely being considered for the role of White House press secretary, given her near-constant presence on television speaking on Trump's behalf in the campaign's final months. Since the '90s, Conway has provided political commentary on more than 1,200 TV shows.
A source told Politico:
I think that job is hers if she wants it. No one was more effective at carrying our message than her. On the campaign, very few staffers were accurately titled. She was officially the campaign manager but, really, she was the top spokeswoman.
The 49-year-old Conway, a veteran political operative and founder of The Polling Company, was initially hired by the Trump campaign in July as a senior advisor to campaign chairman Paul Manafort. According to Ballotpedia, she was promoted to campaign manager on Aug. 17 to fill the opening left by Corey Lewandowski's departure in June. The following day, Trump gave a speech in which he publicly expressed "regret" for sometimes saying the wrong thing.
On Fox & Friends, Republican pollster Kristin Soltis Anderson said the speech was evidence of Conway having a positive effect on Trump:
She has sort of long preached that Trump would be best off focusing on showing that he's a little more empathetic, addressing some of these concerns about his temperament. Bringing her in earlier this week signaled that there was a chance that he might make this turn.
Conway, however, told Good Morning America's David Muir that Trump himself deserved the credit:
He was talking about anyone who feels offended by anything he said and that's all him. You know, he took extra time yesterday going over that speech with a pen so that was a decision he made. Those are his words.
Though there were rumors Conway had a shot at becoming the White House chief of staff, Trump announced over the weekend that Reince Priebus, chairman of the Republican National Committee, will serve in that role. Trump also named Stephen Bannon, former CEO of Trump's campaign, as senior counselor and chief West Wing strategist. A shortlist of names for other key posts within Trump's administration, including his Cabinet, has been compiled and announcements are expected in the coming weeks.