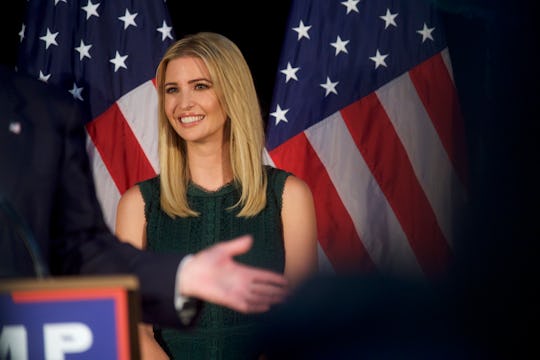 Mark Makela/Getty Images News/Getty Images
What Role Would Ivanka Trump Play In Her Father's Administration? She May Be Involved
As President-elect Donald Trump continues to announce his Cabinet picks, much of the nation may be curious as to how his 35-year-old daughter will be involved in the White House — if at all. So, what role would Ivanka Trump play in her father's administration? Legally, the real estate mogul can't appoint his daughter to an official White House position due to federal anti-nepotism laws that prohibit such decisions, but that hasn't blocked her from holding a position on her father's transition team, along with her siblings Eric and Donald Jr.
Despite her current role as one of Trump's key advisers on his transition team, Ivanka has insisted that she will not have a role in her father's administration. During an interview with the entire soon-to-be first family on CBS' 60 Minutes on Nov. 13, Ivanka said she will support her father as the President of the United States by being his daughter, adding that she will be involved in an informal capacity.
"I'm going to be a daughter," she told CBS' Lesley Stahl. "Wage equality, childcare. These are things that are very important for me. I'm very passionate about education. Really promoting more opportunities for women. So you know, there are a lot of things that I feel deeply, strongly about. But not in a formal administrative capacity."
Days later, however, Ivanka was photographed in what appeared to be a rather formal administrative capacity when she sat in on her father's meeting with Japanese Prime Minister Shinzo Abe at Trump Tower on Nov. 18.
While it's not clear what role she might have played in that meeting, many pointed out on social media that her role that day was likely not just "to be a daughter," while some say that Trump is walking a fine line with anti-nepotism laws with his children on his transition team.
Ivanka officially serves as the executive vice president of development and acquisitions at the Trump Organization in addition to owning her own fashion brand. While her passions for wage equality, education, and opportunities for women may come into play while Trump is in office, she can't legally hold and get paid for a government position under her father's administration.
There's a loophole, however, according to CNN: If any of Trump's children choose to forgo a paycheck, Trump could bypass that law. But, the president-elect could still find himself on some "legal shaky ground" if he decided to go that route.
Although Ivanka has stated that she won't be officially involved in her father's administration, there are ways to get around the system, albeit somewhat unethically through a legal gray area. If this past election was any indication as to what the next four years might be like, then it's best to play it safe and prepare for anything.