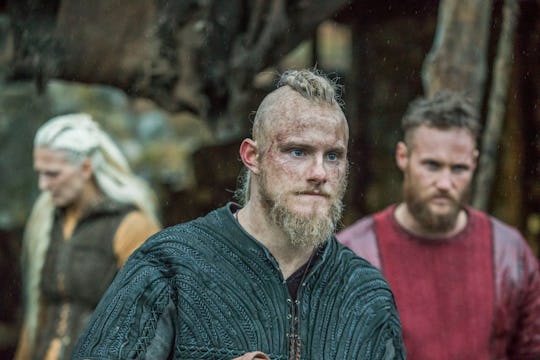 Jonathan Hession/History Channel
This Season Of 'Vikings' Is Finally Back From A Long Hiatus
When TV shows go on hiatus, the break typically lasts a few weeks or, at the most, a couple of months. This is usually done to avoid shorter breaks during holidays. And, as an audience, we accept this. So when Vikings Season 5 ended in January and didn't come back, some fans assumed it was the end of the season. Now, it's back and those same fans are probably trying to figure out what season of Vikings this is. It was announced ahead of Season 5 that the season would span 20 episodes like Season 4 did. And, like Season 4, Season 5 of Vikings was split into two parts. So the season of Vikings that started back up Wednesday night is the second half of Season 5.
Though if I'm being honest, the way things ended in January definitely made it seem like that was the end of the season. I guess that's the whole point of a mid-season finale, but after waiting 10 months for Vikings to come back, it was only natural to assume that when it returned, it would be another season rather than a continuation. Season 5 ended with the battle that the season had been leading up to at that point and as it was shown from different characters' perspectives, it ended with a few big losses that are likely going to be felt in Part 2 of Season 5.
Halfdan was killed on the battlefield by his own brother, both Snaefrid and her father died, and a pregnant Astrid who wanted to die was killed by Lagertha. It all ended with Ivar winning the battle and taking over as Lagertha looked stunned at what just went down. It was pretty epic for a mid-season finale and the second half of Season 5 is going to be all about the aftermath.
Vikings creator Michael Hirt told Entertainment Tonight that while the battle ended in a victory for Ivar, the war is far from over.
"The war is only just beginning, really. Know that one of the big things with Vikings was fame, fame for having done something extraordinary. And all the sons of Ragnar grew up with a father who was famous, and they want to be famous. So these contacts, these battles, these wars, these alliances, will go on until, in the end, one of them will survive, and one of them will be more famous," he said. "And especially if you have someone like Ivar the Boneless in the field, you are going to get some pretty extraordinary action. It's a momentum that's started that won't stop for a long time."
Hirst also teased that "Season 5B is full of the most extraordinary twists and turns, and deep, deep emotional storylines" and to anticipate Episode 15, titled "Hell," which he said "will just tear your heart apart and blow your socks off."
It honestly sounds like Season 5 Part 2 is going to be just as epic as the first half was. I don't know if there will be another big battle and another handful of losses to end things, but as Hirst said, the fighting will never stop until someone comes out on top and the other side is completely defeated.
Vikings may have split Season 5 into two parts and left fans hanging for a good 10 months, but now that it's back, I'm ready to see Lagertha somehow pull herself back up and see what Rollo will do now that he's back. I don't think I can take any more big losses among the characters, so hopefully things won't get too soul crushing too soon.
This first-time mom wants to have a home birth, but is she ready? Watch how a doula supports a military mom who's determined to have a home birth in Episode One of Romper's Doula Diaries, Season Two, below. Visit Bustle Digital Group's YouTube page for the next three episodes, launching every Monday starting November 26.