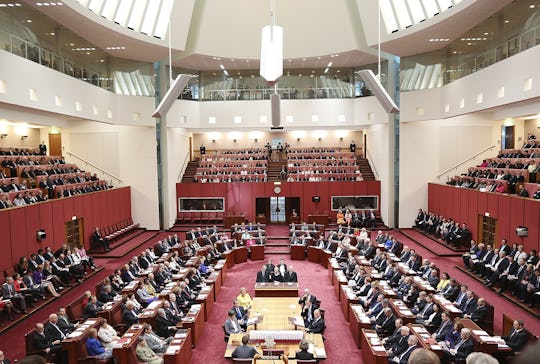 Stefan Postles/Getty Images News/Getty Images
Australian Senator Makes A Motion While Breastfeeding
Good news: women can officially Have it All™ now, as illustrated by Australian Parliament member. Greens party senator Larissa Waters moved a senate motion while breastfeeding on Thursday, and nobody batted an eye. This wasn't a calculated statement, either; Waters just had work to do, so she did it. "Black lung disease is back among coal miners in Queensland and Alia was hungry," the MP told BuzzFeed News. Still, it was a record-setting first for Australian Parliament, and the second one set by the pair. Alia was the first baby to be breastfed on the Senate floor after her mother returned from maternity leave in May.
Parents' rights have grown by leaps and bound in the Australian government over the past few years. Victorian state Labor MP Kirstie Marshall was ejected from the Victorian parliament for breastfeeding in 2003, according to the Sydney Morning Herald, and in 2009, Australian Greens senator Sarah Hanson-Young's toddler was ordered off of the senate floor. And in 2015, Liberal MP Kelly O'Dwyer was instructed by her colleague, then-Chief Whip Scott Buchholz, to pump more milk to avoid missing votes. Buchholz claimed he was unaware that Parliamentary rules allow new mothers to vote by proxy while breastfeeding. He lost his position days later, according to Australia's ABC News.
Things turned a corner in early 2016, when parliamentary rules were updated to allow MPs to bring children to work, according to ABC News. "No member, male or female, will ever be prevented from participating fully in the operation of the Parliament by reason of having the care of a baby," Leader of the House Christopher Pyne said at the time. Waters is the first MP to fully take advantage of that option, and it's thankfully not causing much of a stir. Deputy President Sue Lines was all smiles as she called on Waters to speak on Thursday, as were neighboring senators.
Outside of the chamber, Waters has faced some criticism. On Thursday evening, she tweeted a screenshot of a text message referring to her as a "dumb b*tch," among other things. But she appears to be handling it well, as she captioned the screenshot with an "LOL." She also shared her own take on the momentous occasion: "First time I've had to move a Senate motion while breastfeeding! And my partner in crime moved her own motion just before mine, bless her." Nothing like a poop joke to bring everyone together.