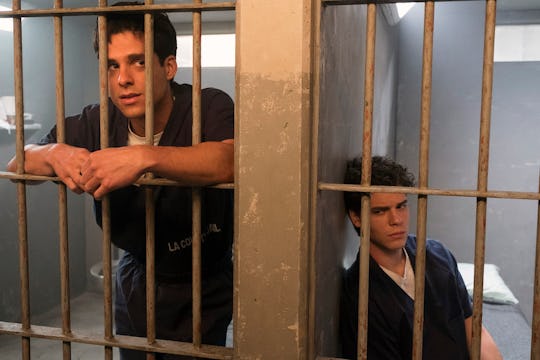 Justin Lubin/NBC
Find Out What Sentence The Real Menendez Brothers Received
Law & Order True Crime is wrapping up its first eight-episode season about the murders of José and Kitty Menendez, which their sons Erik and Lyle eventually confessed to and went to trial for. Even though the Menendez brothers confessed to killing their parents, they argued self-defense, claiming that the murders were in response to years of sexual, physical, and emotional abuse. Their juries deadlocked but, in retrials, Erik and Lyle were convicted of first-degree murder and conspiracy to commit murder. So what sentence did the Menendez brothers receive? They're both serving life in prison without the possibility of parole.
The Menendez trials first gained national attention when Judge Stanley Weisberg agreed to allow cameras into the courtroom so that Court TV could broadcast the proceedings. The case of two brothers murdering their wealthy parents in their Beverly Hills home after an alleged lifetime of abuse, only to go on a spending spree after their parents' deaths, obviously sparked controversy. Erik and Lyle's all-female defense team, led by Leslie Abramson and Jill Lansing, worked to divide the jury along gender lines, and it worked in their first trial. The juries for Erik and Lyle deadlocked, with all the female jurors voting not guilty, while all the male jurors voted guilty.
For the second pair of trials (the brothers were tried separately, although they argued their defense together), Weisberg refused to allow cameras into the courtroom and the brothers were each convicted on two counts of murder in the first degree and conspiracy to commit murder. When it came to the sentencing phase, both juries opted for life without parole instead of the death penalty. Jurors reportedly rejected the death penalty for the Menendez brothers because neither of them had a felony record or any previous history of violence.
In fact, their clean records are part of what led jurors to reject the defense's argument that they had suffered years of abuse. The juries found it improbable that Erik and Lyle had really been abused but never gotten into trouble before, and concluded instead that they had probably killed their parents to gain control of their wealth. The brothers were charged with consecutive sentences for their crimes and were sent to different prisons to serve out their terms. Erik and Lyle were classified as maximum security inmates and segregated from the general prison population.
During sentencing, Abramson allegedly told one of her witnesses, Dr. William Vicary, to alter his notes from a session with Erik. She claimed it was only in an effort to protect Erik's patient confidentiality, and the Los Angeles District Attorney's office declined to investigate the matter further. But both brothers filed for mistrials citing that Abramson's representation was ineffective, bordering on misconduct, and claiming that it irreparably damaged their case during sentencing.
The brothers appealed the court's decisions multiple times, but both the California Court of Appeals and the Supreme Court of California decided to uphold their murder convictions. Later, the United States Court of Appeals for the Ninth Circuit also denied their petitions for habeas corpus. Both brothers eventually married while serving out their prison sentences, and in a 2005 Larry King Live episode, Erik claimed that he hadn't spoken to his brother in over ten years. Law & Order True Crime: The Menendez Murders will tackle the last phases of their conviction and sentencing in the final two episodes, which air Tuesdays at 10 p.m. ET on NBC.
Watch Romper's new video series, Romper's Doula Diaries:
Check out the entire Romper's Doula Diaries series and other videos on Facebook and the Bustle app across Apple TV, Roku, and Amazon Fire TV.