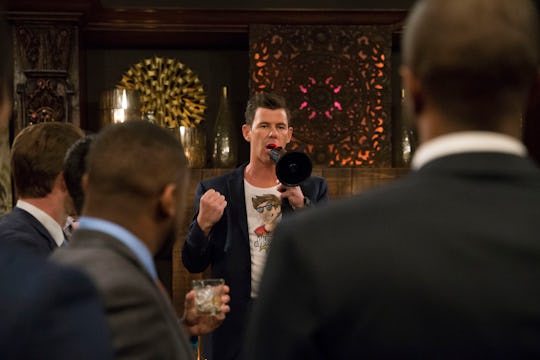 ABC/Paul Hebert
Lucas & Blake E. Have History Prior To 'The Bachelorette'
From the moment he arrived on screen, Lucas was a polarizing figure on The Bachelorette. Some viewers hated his "whaboom," and others... actually, I'm unsure if anyone actually liked it. Regardless, contestant Blake E. hated Lucas most of all. In the premiere he hinted that the two knew each other, and that Lucas is just focused on fame and selling his "whaboom" shirts. In the next episode, Blake gave a few more details: they've been on reality television together before. So what show were Lucas and Blake E. on before The Bachelorette? Blake thinks Lucas isn't here for the right reasons.
It's not too surprising that contestants aren't new to TV, but having two be on the same show prior to The Bachelorette? I think that's unprecedented. The Hollywood Reporter sniffed out the show that they appeared on together: WEtv's Ex Isle. It centers around couples that go on an island and agree to part ways and find new love interests. This is the episode Lucas appeared on; he and his ex-girlfriend left each other, and Blake was one of the single contestants put on the island to hook up with one of the "exes" — so the two met under very interesting circumstances. I think Blake and Lucas managed to find a show more dysfunctional than The Bachelorette, if that's possible.
Blake insists that Lucas is here just to advance his career; honestly, his IMDB page doesn't lie. Lucas has numerous scripted and unscripted credits, so it's not a stretch to believe he's looking for a new platform with The Bachelorette. What's interesting, though, is that in this Instagram post from February 2016, Blake and Lucas appeared to be at least civil with each other.
What happened between then and when they filmed The Bachelorette? Well, on Lucas' Ex Isle introduction video, he actually seems... normal. He says he's a real estate investor, as opposed to on his ABC bio where he lists his occupation as "whaboom." Between Ex Isle and The Bachelorette, Lucas may have decided to play up the whaboom schtick — and Blake knows it's not who he really is. Perhaps Blake is so upset because he knows the pre-whaboom Lucas, and knows it's all a ploy for fame (in my opinion, infamy, but whatever). Blake keeps getting more and more frustrated, so I wouldn't be surprised if this rivalry reaches a climax on the show sometime soon.