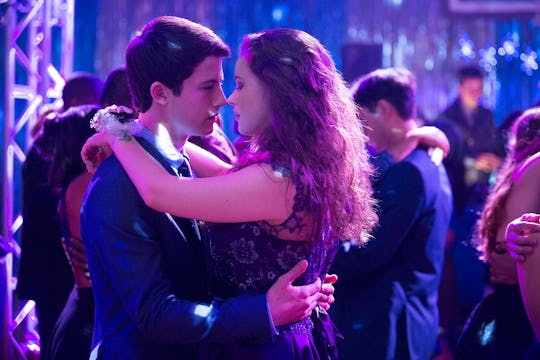 Beth Dubber/Netflix
Things Got Romantic For Clay & Hannah On '13 Reasons Why'
(Warning: this post contains spoilers from Episode 5.) Although Netflix's newest series tells the story of Hannah, a high school student who committed suicide, there are still one or two happy moments throughout the show. One of the more memorable ones is when Hannah goes to her school's winter formal and shares a dance with Clay. The moment was incredibly cute and endearing — and if you loved the scene as much as I did, you may be wondering what song Clay and Hannah danced to on 13 Reasons Why.
The song is called "The Night We Met" by the American indie folk and rock band Lord Huron. Although on the show Tony played the song on a cassette tape, which may lead some to believe the song is from the '80s, it's actually pretty recent. The song was a part of the band's second album Strange Trails, which was released in April 2015. So if you're now as obsessed with the song as I am and want to continuously picture Clay and Hannah dancing to it, you can thankfully download it on iTunes or listen to it on Spotify as many times as you want, as well as check out the band's other music.
The song appears to be Clay and Hannah's song, or at least it would've been if they'd become a real couple. During one of the various flashbacks prior to Hannah's death, Tony put the song on a mixtape for her, and in the present he did the same for Clay after he asked Tony about the song. It's clear the song was special to both of them and it wouldn't be surprising if the song plays again during the series.
Though the song is titled "The Night We Met," the winter formal wasn't actually when Clay and Hannah met. Instead it was at the movie theater they both worked at over the summer. Even though it was obvious Clay had a crush on Hannah from practically the moment he met her, it appears their friendship barely made it to the romance level before Hannah ended her life.
Maybe it was their closeness that led Hannah to include Clay on her tapes or maybe it was something else, something worse. Whatever the reasoning, Clay is apparently also one of her 13 reasons why and Clay, just like viewers, will have to keep listening to find out why he made the list. Hopefully, it's not as bad he fears it is.