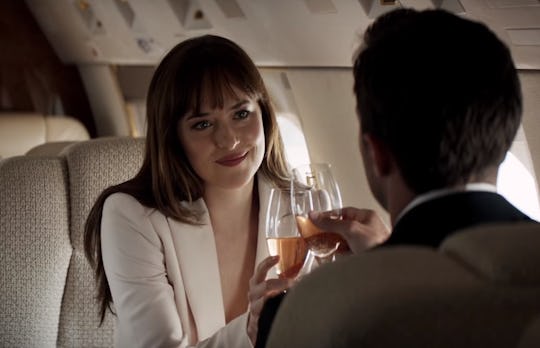 Universal Pictures/YouTube
The Latest 'Fifty Shades Freed' Trailer Sets An Extremely Sexy Tone
The Fifty Shades of Grey franchise has always included intense, sexy songs to serve as the backdrop of its various promos, which heavily feature Christian Grey and Anastasia Steele in some very hot and heavy scenes. And it seems as though the final installment in the franchise could very well be the sexiest one yet, at least if the new promo is any indication. But what song is in the Fifty Shades Freed trailer? It certainly sets a very provocative tone. Although the soundtrack for Fifty Shades Freed hasn't been released yet, the song itself is "Never Tear Us Apart" from the '80s band INXS, but this time around, another singer lent their voice for the Fifty Shades Freed version of the song.
Fairly new British singer-songwriter Bishop Briggs recorded this version of the song and, judging by her tweet about the new Fifty Shades Freed trailer, she's just as excited about it as everyone else. In the past, Beyoncé and Taylor Swift have given movies in the Fifty Shades franchise songs to act as sort of anthems and get fans hyped, so you'd kind of expect another strong singer to be the voice behind this version of "Never Tear Us Apart." And I think it's safe to say that it sets the sexy tone of the upcoming final installment.
Based on the final book of the same name in the trilogy, Fifty Shades Freed continues the story of Ana and Christian's outrageously rich lifestyle, this time as a married couple, as they also navigate the men and women of their pasts, including Ana's scorned boss Jack who was fired at the end of Fifty Shades Darker and who seems out for revenge. Of course, along the way there's going to be some very BDSM-heavy scenes of the newly married pair, because that's arguably one of the reasons most fans have come to look forward to these movies, but who's complaining?
Where Fifty Shades Darker focused on the women from Christian's past, Fifty Shades Freed will arguably be much more action-packed, which means more car chases, ominous music, and sexy scenes in the Red Room of pain. And Briggs' song fits in perfectly with these themes.
Some fans might recognize Briggs' voice from her 2016 song "Wild Horses" which was featured in an Acura commercial at the time. But even if this is your first time hearing her unique and throaty voice, it's hard to deny how perfect it is for the latest Fifty Shades Freed trailer. As a relatively new artist, Briggs only just released her fourth single, "Pray (Empty Gun)" in August 2016 and appeared for the first time on The Tonight Show that very same month. So landing such a prominent part in the Fifty Shades Freed soundtrack is sure to give her singing career an extra (and well deserved) boost.
The movie itself will no doubt bring the story to a satisfying conclusion, especially if it (mostly) stays true to the books. Although Fifty Shades Freed seems to open up with the wedding of everyone's favorite kinky couple, their honeymoon seems like it doesn't last nearly as long as it did on the page. Spoiler alert — it seemed to go on for a good third of the novel. Instead, the movie version — which comes out on Feb. 9, 2018 — seems like it'll have the honeymoon cut short for all of the drama and action that seems to follow Ana and Christian around wherever they go. But I'm sure there will still be more than enough shower, elevator, hallway, living room, bedroom, and outdoor sex scenes to satisfy pretty much any fan.
Watch Romper's new video series, Romper's Doula Diaries:
Check out the entire TK series and other videos on Facebook and the Bustle app across Apple TV, Roku, and Amazon Fire TV.