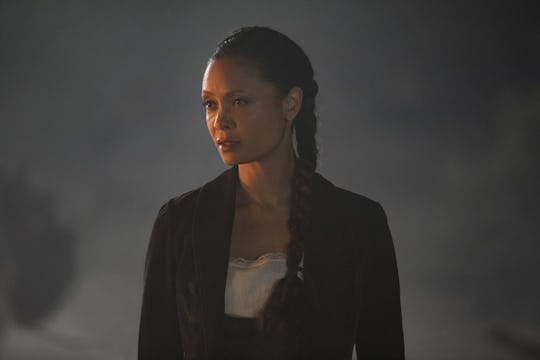 John P. Johnson/HBO
The Song Playing In The 'Westworld' Season 2 Trailer Will Send Chills Up Your Spine — VIDEO
The official, full-length trailer for the second season of Westworld is here and it's thrilling for several reasons, not least of which being that the world in general has been waiting for this moment for so long. But it also gave me goosebumps, thanks to the chilling score playing the background that sounded frustratingly familiar. So what song is in the Westworld Season 2 trailer? It's a new take on the classic grunge rock jam, "Heart-shaped Box" by Nirvana and it provides an eerie backdrop for all the action to come.
Like many others my age, I was filled with an existential angst as a teenager, so this song with its harsh lyrics, screaming guitars, and ragged vocals was a soothing balm to my angry soul. But Westworld's version is pared down and rearranged by composer Ramin Djawadi (who scored the first season of the show as well as six seasons of Game of Thrones). In this version, as the melody picks up steam, the screeching strings take on an ominous tone rather than furious, hinting at the trouble to come. I had no idea that Nirvana could sound so epic. But let me tell you I'm loving every second of it.
One often discussed element of the first season of Westworld was the player-piano, a set-piece so heavily laden with metaphor and symbolism for the show I'm surprised it didn't collapse under the weight. Not only was the player-piano itself — with its mechanic and not-quite-human musicality — a perfect metaphor for the robot inhabitants of the world, but the music it played was also a reminder that something wasn't right. Though a tinny piano is perfectly period-appropriate for the wild west, the songs it played were not. The player piano was heard playing the melodies of popular alt-rock songs by Radiohead, the Rolling Stones, and The Cure.
In an interview with Pitchfork, Djawadi explained a little bit about the meaning of playing those modern songs. He said that one would think that in a fantasy world this minutely detailed, every period detail including the music would be correct. "And when it's not, it's that subtle reminder that, 'Wait, there is something not right. This is not real.' It's just such a powerful tool that only music can do," he explained. He also gave credit in the interview to the show creators, Lisa Joy and Jonathan Nolan, for the idea of putting modern music into the series.
Radiohead is one band that was featured several times on the show. When asked what Nolan loved so much about the band, Djiwadi explained that he's also a fan, and that the lyrics themselves fit perfectly with the show's theme. "I think it's a great fit. Like with "Fake Plastic Trees" — even if you just take the title — with "Westworld," what is real? What is not real? You can interpret it in many ways," he stated.
Now if the trailer for Season 2 is any indication, the show is going to continue its tradition of including modern songs as the soundtrack to the show. Nirvana seems like a fitting starting point, so I'm excited to see what other bands and classic songs will start to crop up. If you're feeling nostalgic and want a recap of the stripped down, instrumental songs used in the first season, the entire soundtrack is available for purchase on iTunes.
Now who else still has goosebumps from watching that trailer? This is going to be a bloody robot war, I can tell you that much.
Check out Romper's new video series, Romper's Doula Diaries:
Watch full episodes of Romper's Doula Diaries on Facebook Watch.