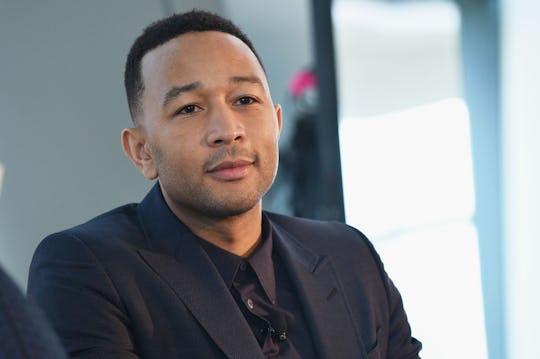 Bryan Bedder/Getty Images Entertainment/Getty Images
John Legend Performs A Familiar Tune On 'Master Of None'
Warning: Season 2 spoilers ahead! One of the first things you'll notice about the second season of Master of None is that the music is totally on point. Although the theme songs and the soundtrack are great, it totally peaks in Episode 5, when John Legend makes a cameo at a dinner party. You're probably wondering what song John Legend is singing in Master of None, since it most likely sounded very familiar. It's a Michael Jackson song called, "I Can't Help It." See? Aziz Ansari obviously has great taste in tunes.
Legend plays himself in the episode at a very fancy dinner party. In this new season, Dev is the host of a cooking competition show called Clash of the Cupcakes and he gets invited to a party hosted by his boss, Chef Jeff Pastore, played by Bobby Cannavale. Chef Jeff is a producer on Dev's cupcake show, but he's also a celebrity chef. Like if Anthony Bourdain met Mario Batali. He's the kind of guy who makes jokes about being "sexually charged" by pictures of al pastor.
Anyway, Chef Jeff invites him to a party, where John Legend jokes that he has to "sing for his supper," because really, if you have the opportunity to hang out with John Legend, one has to make him sing a song.
Legend hops on the piano and slows down the Jackson hit. "I Can't Help It" is from Jackson's first album, Off The Wall that he released as an adult in 1979. It was never released as a single, but it's a shame, because of it's one his best songs. Fun fact? It was written by Stevie Wonder, so it's only fitting that Legend, another great R&B star, would cover it.
It's sort of a shame that Legend isn't in more scenes, but his performance is memorable enough. Don't waste anytime trying to track it down on YouTube, though, because Ansari is doing fans one better: releasing the entire Season 2 soundtrack on CD and vinyl. Old school. Zach Crowie, the music director, made the announcement on Twitter Friday, just after Netflix launched the season.
He doesn't make any mention of John Legend's song being included in it, but I'm pretty sure that they wouldn't leave something like that out. Especially if it's going to be on vinyl.
Aside from Legend, Cannavale, and the reappearance of Ansari's actual parents playing Dev's folks (they really are the best part), and Danielle Brooks as Dev's agent, there are plenty of other stars that show up. Angela Basset makes an appearance, along with Raven Simone and Jabbawockeez, the winners from the first season of America's Best Dance Crew. The mysterious dance crew actually had a scene in the same episode as Legend's, in which they performed on Dev's show Clash of the Cupcakes. Can an episode really get any better than that?