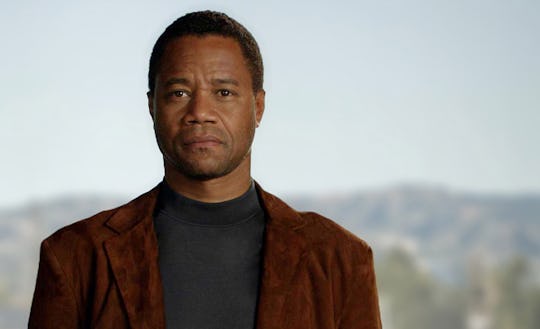 FX
What Song Is Playing At The End Of 'The People v. O.J. Simpson: American Crime Story's Premiere?
The Trial Of The Century was dramatic enough as is, but FX raised things to the next level with The People v. OJ Simpson: American Crime Story, brought to us by Ryan Murphy, the man who proved via American Horror Story that he knows how to bring crime to life. But he also saved the premiere's most dramatic moment for the end, when O.J. Simpson (played by Cuba Gooding, Jr.) attempted to commit suicide (in Kim Kardashian's bedroom!) before ultimately, and famously, fleeing in his white Ford Bronco. Making the moment even more capturing? Nina Simone's "I Shall Be Released," the song American Crime Story's premiere ended with.
The song might have seemed an odd choice when watching the premiere — after all, its bluesy, laid-back vibe played during a moment of pure chaos, when Simpson's friend and future defense lawyer, Robert Kardashian (played by David Schwimmer), attempts to locate him following his suicide attempt. But, looking at the lyrics to "I Shall Be Released" — originally written by Bob Dylan — it's actually a perfect choice. Particularly when it comes to this verse, sung about the subject's co-inhabitants in prison:
Now yonder stands a man in this lonely crowd
A man who swears he's not to blame
All day long I hear him shouting so loud
Just crying out that he was framed
Sounds familiar, right?
According to David Yaffe's Bob Dylan: Like A Complete Unknown, the song is about "redeemed prisoners." And, after eventually being taken into custody and sitting through the aforementioned Trial Of The Century, Simpson was pronounced not guilty by a jury — something that would certainly point to redemption. Well, if not for widespread doubts — from those involved in the trial and beyond — about the football star's actual innocence. (Simpsons legal team has not yet responded to Romper's request for comment about the skepticism surrounding the verdict.)
Despite the not guilty verdict, however, Simpson wasn't redeemed for long — the football player returned to prison in 2008 for kidnapping and armed robbery following a 2007 raid on a Las Vegas hotel. (He is currently serving 33 years, but is up for parole in 2017.) Not that he's holding back from trying to get that freedom covered in "I Shall Be Released" — following claims his attorney during his trial did not perform up to standards, Simpson's legal team attempted, and failed, to get a new trial. He still, however, could be released on parole next year.
So, will Simpson see these lyrics resurface in 2017?
I see my light come shinin'
From the West down to the East
Any day now, any day now
I shall be released
We'll have to see. In the meantime, we'll have to watch Gooding, Jr., as Simpson, standing in his lonely crowd in American Crime Story.