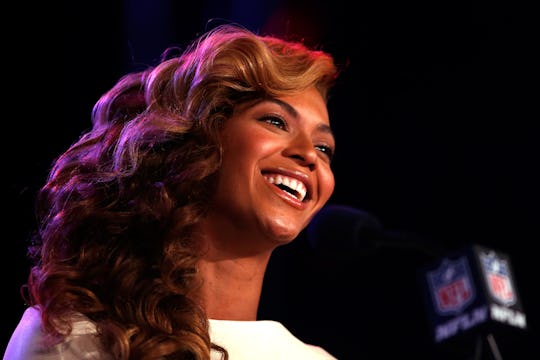 Scott Halleran/Getty Images Sport/Getty Images
The Song Playing In Beyonce's Roller Rink Instagram Is Incredibly Catchy
Beyoncé can make anything seem fun. While roller skating might bring back terrifying memories from the early 1990's for some (like myself), Beyoncé makes roller skating look like a breeze. In her latest Instagram, Beyoncé takes fans inside a night at the roller rink with husband JAY-Z and friends. And while I can never skate like Beyoncé, I can at least know what song is playing in Beyoncé's roller rink Instagram, so I can pretend like I'm Beyoncé.
Late Saturday night, Beyoncé shared the short video clip to her Instagram account, because she wanted fans and followers to have extreme FOMO. Just kidding. But her newest Instagram post does make it feel like you're out on some kind of fun. In the video, Beyoncé shows off her skating skills and excellent moves (she can skate backwards, what!?), as well as her super cute outfit. In the clips, Beyoncé could not look any happier, taking a much needed break from being a mom to 5-year-old daughter, Blue Ivy, and newborn twins, Rumi and Sir.
According to E!, Beyoncé was at the roller rink in Los Angeles with 8 friends, including JAY-Z, where they had an amazing time singing and dancing (according to witnesses, JAY-Z opted out of skating and sat on the sidelines).
But what was the song to soundtrack that perfect night of fun? "Caroline" by Aminé, which plays over Beyoncé's new Instagram video. The song, with its smooth, bop-y beat is incredibly catchy. It's no wonder that Beyoncé used the song in her Instagram video — because the song's lyrics actually name drop Bey. In the song's introduction, Aminé talks to a friend about his new girl before launching into the song. "I heard you got a dime piece man," Aminé says. "One of them Beyoncé, Megan Good types, man."
In an interview with Genius, Aminé said that "Caroline" is a love song to all of the women out there (maybe even including Beyoncé):
I wrote this song with the intentions of hopefully making a modern day "Billie Jean" [by Michael Jackson]. Caroline represents the handful of women I've met in my life that I would put a genuine effort in.
Beyoncé's use of the song in her video will undoubtably give it a little more attention than it already has, but it doesn't need her help. The song went triple platinum in June and Aminé was the subject of a New York Times profile in July (people, including Beyoncé really, really like "Caroline").
Beyoncé, roller skating, and music all go hand in hand. In her music video for her song "Blow," Beyoncé shows off even more impressive skating moves. Leave it to Beyoncé to be good at everything, including rollerskating.