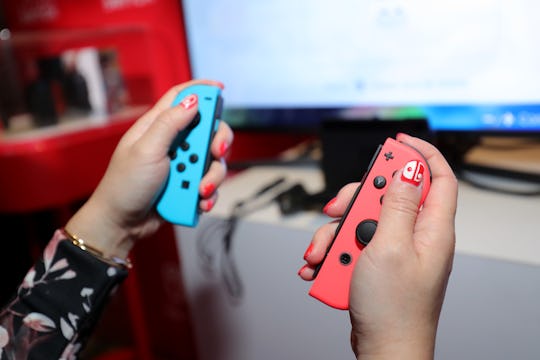 Neilson Barnard/Getty Images Entertainment/Getty Images
Here's The Song From The Nintendo Switch Ad
For the 2017 Super Bowl, Nintendo released a new commercial for the Nintendo Switch that made me wonder two things: first of all, what is this strange new device and why is it so confusing, and secondly (and more importantly), what song is in the Nintendo Switch commercial? Because it is all sorts of catchy and I would like to play it on repeat, please.
Imagine Dragons fans will probably recognize the voice of lead vocalist Dan Reynolds and the band's powerful sound. But if the song doesn't sound familiar, that's OK: the Night Visions musicians only released "Believer" on Feb. 1, according to Billboard, and it might be a teaser for their upcoming third album. (As one of those aforementioned Imagine Dragons fans, I'll just be over here crossing my fingers for that next album.)
If the Nintendo Switch snippet of "Believer" made you curious to hear more, you can check out Imagine Dragons' new song on YouTube, iTunes, Spotify, Amazon, and pretty much anywhere else. Judging by the success of "Radioactive," you might soon be hearing "Believer" all over the radio, too.
Luckily for gamers, "Believer" also makes a great backdrop for the Nintendo Switch's Super Bowl commercial, with its epic, booming sound and energetic vocals. It could even make some non-gamers (who, me?) want to give the Legend of Zelda: Breath of the Wild a try.
As for the Nintendo Switch, here's what that weird-looking tech is all about: the Switch is a handheld device that lets people play games on the go and at home. While it won't be released until March 3, the system — which retails at $299.99 — looks incredibly versatile, and the Nintendo Switch could come to replace multiple gaming platforms pretty easily, like the Wii U and the Nintendo 3DS.
For those who would like to fill the wait time until the Nintendo Switch's release date with more Imagine Dragons, don't worry. The band also released a song crafted specially for Suicide Squad last year, called "Sucker for Pain," which features Lil Wayne, Wiz Khalifa, Logic, Ty Dolla $ign, and X Ambassadors. (Yeah, I didn't know you could fit that many artists into one song, either.) The group has also already released two albums, so if you haven't listened to Smoke + Mirrors or Night Visions yet, now's the time.
Once you've given all of those a listen, you'll just have to wait for the next album to drop for some new Imagine Dragons sounds. If "Believer" is anything to go off of, though, it'll definitely be worth a listen.