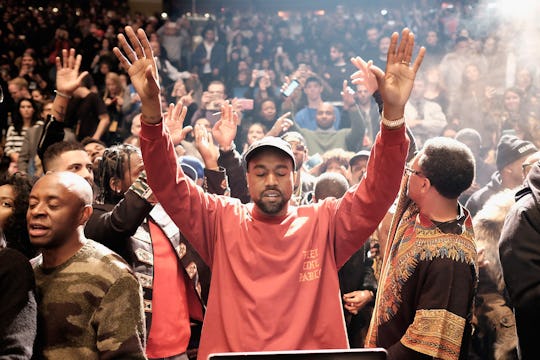 Dimitrios Kambouris/Getty Images Entertainment
What Songs Are On 'The Life Of Pablo'? Kanye Added Even More
It has been three years since Kanye West released his last album, Yeezus. On Thursday night he premiered his latest, long-awaited project, The Life of Pablo. He has been very secretive about it, so fans are still wondering what songs are on The Life of Pablo? West added even more tracks to the additional track list on Friday, the day the album was reportedly supposed to be released.
The album has been called the greatest of all time by West. It's also been through three name changes, several track change-ups, and more iterations — even on the day of its release — to get to where it is now. And where's that? Critic Neil McCormick said, despite the years of work and star-studded collaboration sessions in the studio, it sounds "strangely unfinished." according to the Telegraph:
The Life Of Pablo is an intermittently brilliant but utterly bonkers act of artistic hubris.
Not exactly a stellar review, but West is not one to be phased by his detractors. The album appears to be all about West's own life. In a tweet with some of the songs' lyrics, West said he discusses his family, money troubles, his relationship with his father, his relationship with other stars (notably Taylor Swift), and, of course, his fame. Some have even hypothesized that the name of the album is a reference to Pablo Picasso, whom West idolizes and has been known to compare himself to. According to West, he's this generation's Picasso, but, instead of paintings, his art is albums. And this one is his self-portrait. He released the track list for the album on Twitter Thursday before its debut at his Madison Square Garden fashion event. The tracks were scribbled out, very artistically, on a piece of loose leaf. Note that this is the "final track list," yet there's a question at the top: "which one?," and it could refer to "which Pablo?," though it's unclear.
It's hard to say whether West panicked after getting poor reviews on his initial release or whether keeping up an enigmatic facade and air of confusion is part of his PR strategy, but just Friday he announced the album was being remastered and more tracks were added.
So, what debuted at Madison Square Garden wasn't mastered? Or finished? Who knows. West also released the album's cover on Thursday.
But, later, he released another.
The "Which/One" emblazoned across the new cover art reads like a taunt, or perhaps a struggle West himself faced. Does he choose the family life, symbolized here by the photograph of West's parents' wedding, or does he choose the booty life, also pictured above? Which one? It's an age-old dilemma. Looking at the latest list of tracks, like "Famous" and "I miss the old Kanye" and "FML" and "Real Friends" the album reads a bit like a cry for help or friendship.