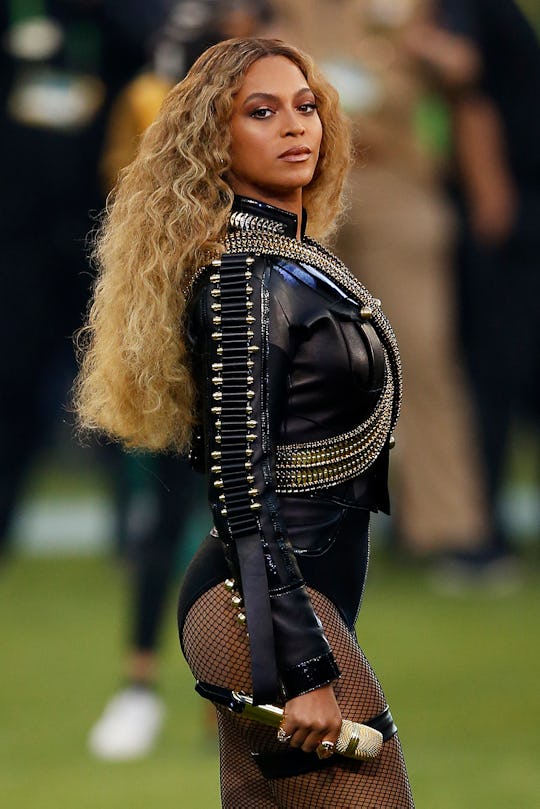 Ezra Shaw/Getty Images Sport
What Songs Will Beyonce Sing On The Formation World Tour? She Could Surprise Fans, Again, With An Album
In case you've had your head under a rock these past few days, Beyoncé totally overshadowed the Super Bowl this weekend with a triple-whammy punch. She released her new song and video, "Formation," on Saturday, then followed that up with a stellar halftime performance on Sunday, and that halftime performance was made even more epic by her world tour announcement. (Super Bowl? There was a Super Bowl?) Anyone who may have attended the Mrs. Carter World Tour (or desperately wishes they could have) may be wondering what songs Beyoncé will sing on the Formation Tour before giving up their hard-earned cash for tickets that will certainly be difficult to come by.
Signs are already pointing towards Beyoncé dropping a new album soon, but that's when things get complicated. "Formation" will obviously need an album to go with it, but Beyoncé has kept curiously mum on the topic. Other artists have definitely hinted at a Jay Z and Beyoncé collaboration album — because what's better than a husband and wife dream team combo? — with Future, John Glass, Producer Deputy, Bone Thugs'N'Harmony, and several more, according to Billboard. With approximately two months left before Beyoncé's Formation World Tour begins, fans are quietly praying that a surprise release is in the works.
Beyoncé has a tendency to release an album about four to seven months before a tour. But she has also released albums sans tour, and she threw everyone for a loop when she dropped her fifth album, BEYONCE, smack dab in the middle of her Mrs. Carter Show World Tour. Because that's how Beyoncé likes people: on their toes.
Fear not, though, fans. Beyoncé has been killing it as a solo artist since 2003, which means she's got 13 years of music to draw from when performing her Formation World Tour. You can bet your bottom dollar she'll be playing her newest song, "Formation," as well as other classics we all know and love: "Single Ladies," "Run the World," "Countdown," "Crazy in Love" and other dance anthems, along with slower tunes like "If I Were a Boy," and "Halo." I mean, guys, she's got 164 songs by Spin's count. That's more than enough to keep things fresh, with or without another 10 or so.
If Beyoncé surprises fans with a new album pre-tour — or right in the middle of her Formation World Tour — it'll be a nice surprise. But otherwise? I have a feeling those stadiums around the world will still be full of people trying to keep up with her "Single Ladies" dance.
Besides, the suspense is half the fun, isn't it?