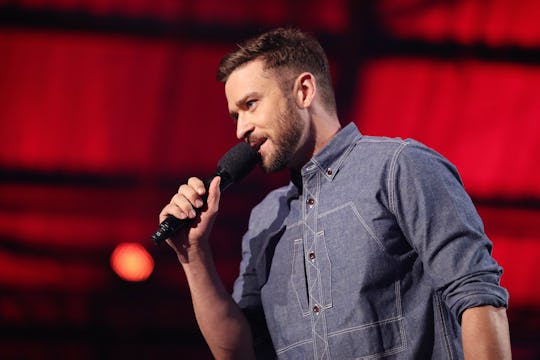 Christopher Polk/Getty Images Entertainment/Getty Images
Here's What Justin Timberlake's Super Bowl Halftime Set List Might Look Like
This Sunday is kind of a big deal, you guys. And no, I'm not talking about the face-off between the Philadelphia Eagles and the New England Patriots — although the chance that Tom Brady could end the day with his sixth Super Bowl win is huge, I'll admit. No, I'm talking about the real history-making event of Super Bowl LII: when super star Justin Timberlake walks on stage at U.S. Bank Stadium in Minneapolis and becomes the only performer to rock three Halftime shows, according to Billboard. And so far, no one knows exactly what to expect from JT's 13-minute set, Billboard reported — other than excellent choreography, of course. True fans everywhere are wondering what songs Justin Timberlake will sing at the Super Bowl, because we have some requests.
There are some things we can pretty much guarantee. With the release of his new album, Man of the Woods, on Feb. 2, it's probably a decent bet that Timberlake will perform something new on Sunday. The singer has been on Instagram recently giving fans previews of music from his new album. And "Filthy," an early release from Man of the Woods, debuted at number 9 of the Billboard Hot 100 for Jan. 20, so it's a likely pick.
But a set that draws only on the star's newest recordings would obviously be a gamble. Those of us who have been JT fans since he first left '90s boy band *NSYNC have certain expectations: we need to hear some of Timberlake's classics and platinum hits — songs like "Rock Your Body," "Suit and Tie," and "SexyBack" — along with anything new. And we need him to bring some of our favorites with him on stage.
Most Super Bowl performers bring on others for at least part of their set, according to CBS News. During Super Bowl XLIX, Katy Perry headlined and brought Lenny Kravitz and Missy Elliot as guest performers. And for Super Bowl 50, Coldplay appeared with Beyoncé and Bruno Mars. So, it wouldn't be odd for Timberlake to invite a couple of guests onstage. Perhaps we'll get a reunion with his boys from pop group *NSYNC, or a "Suit & Tie"/"Holy Grail" medley with JAY-Z. And somewhere on Twitter, there are bets being taken on whether we can expect to see a re-do of one of the most controversial moments in Super Bowl history: Timberlake's 2004 Super Bowl appearance with pop legend Janet Jackson, also known as "Nipplegate."
A behind-the-scenes video released by Pepsi chronicling Timberlake's prep for the halftime performance didn't reveal anything about the possible song lineup (or any other surprises), but it did show that JT and his crew are ready to bring all the heat for the star's third Super Bowl appearance. In the video, associate choreographer AJ Harpold calls the set "the biggest performance of any of our lives." And, with a montage that shows JT and his choreographers in endless rehearsals, running the backup dancers through moves over and over again, it's clear that the show is going to be nothing short of intense.
As a long-time fan of Timberlake's, I cannot wait to see what he comes up with. And I'm also certain that if JT and his crew don't find a way to perform at least part of "Can't Stop The Feeling," his hit from the movie Trolls, I know a group of first-grade girls who are very likely to riot in the streets.
Super Bowl LII airs on Sunday, Feb. 4 at 6:00 p.m. EST on NBC, and is likely to end at around 10:00 p.m. That means those who are eager to watch the halftime performance should probably plan to tune in just before 8 p.m.
No judgement.
Check out Romper's new video series, Romper's Doula Diaries:
Watch full episodes of Romper's Doula Diaries on Facebook Watch.