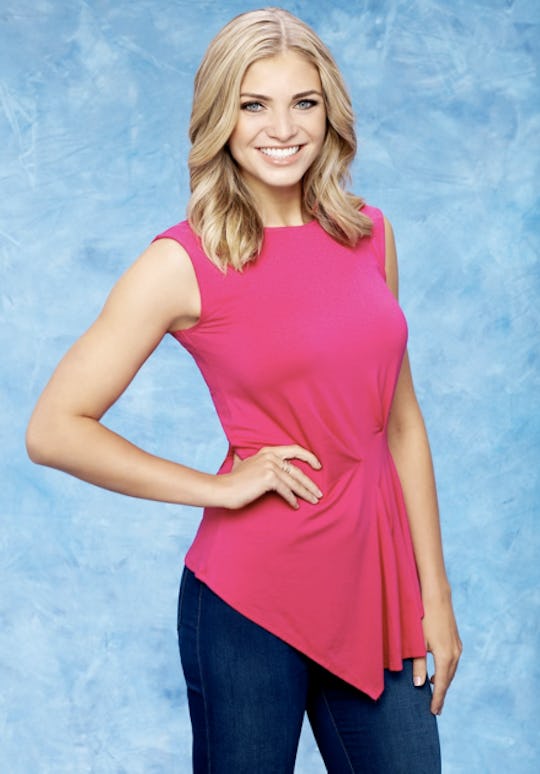 What Station Does News Anchor Olivia Caridi Work For? 'The Bachelor' Contestant Only Graduated Recently
The Bachelor season 20 aired Monday, and we're all curious to know more about the 28 women vying for Ben Higgins' heart. Rumors have it that news anchor Olivia Caridi is an early favorite because she made a good first impression on Higgins. That doesn't surprise me. As a TV personality and news reporter, Caridi has to capture viewers' attention in order to deliver the news and do her job. What station does Olivia Caridi work for? And, more importantly, will her journalist background (nuanced people-skills, the investigative ambition, stellar communications prowess) give her an edge on the other women in competing for the final rose? The tension mounts!
Caridi, from Austin, Texas, anchors the weekend news at 6 p.m. and 11 p.m. on WCYB, which covers Bristol, Kingsport, and Johnson City, Virginia, according to WCYB's website. Then she also anchors the 10 p.m. news on Fox Tri-Cities, which is the name for Bristol, Kingsport, and Johnson City. She also reports during the week for the 5 p.m., 5:30 p.m. and 6 p.m. newscasts on WCYB. Quite impressive for the 2014 graduate of Texas Christian University in Fort Worth.
(Update: During the season premiere of The Bachelor, Caridi said she left her position to appear on The Bachelor.)
With a degree in broadcast journalism and a minor in English, news anchor Caridi has proven to be a go-getter. She studied in the Bob Schieffer College of Communication, where she worked with CBS News' Bob Schieffer and Scott Pelley, according to WCYB's website. And, during her summers, Caridi interned at WFAA-TV in Dallas and Fox Sports Southwest. This southern belle is certainly no slouch when it comes to catching stories. But, and I'm speaking as a news writer myself here, catching a mate is a lot different than catching a story.
Though, in addition to her ambition, Caridi's Christian values mesh well Higgins' "faith-focussed" personality, according to Wet Paint. (Look, I'm not trying to root for any one contestant, just trying to play matchmaker before the game of love has even begun.)
But, I was curious to see exactly what types of stories Caridi is interested in. And anyone in journalism knows that the one place to go to peek inside a journalist's head is...Twitter. So check out these choice tweets from Caridi's feed.
She Tweets About Serious News
Following a report that the six American airmen killed in Afghanistan suicide attack had been identified, Caridi offered prayers to these soldiers and their families.
But Also About Where To Shop To Raise Money For Homeless Pets
Looks like she's a puppy lover!
She Supports Her Colleagues
Does this mean that Caridi will be getting along with her co-stars on The Bachelor? Or will she cause drama? My prediction: it could go either way.
She Shows A Sense Of Humor
Whether or not she stays true her fry mantra when it's game time, she's showing a more playful side of herself in this tweet.
But without further ado, here's Caridi in action as she delivers the news in a 2015 reel.
Will Caridi snag more than story in season 20? Fans will have to wait and see if she remains one of Higgins' favorites after the season premiere.
Image: Craig Sjodin/ABC/Getty Images